Sex Online Magazines
SEXIS Magazine
Unfortunately, many women aren't comfortable with their partner going down on them.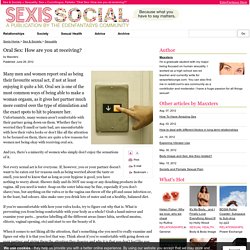 Exploring Intimacy
Sugasm
Sexuality Happens
Nerve - Love. Sex. Culture.
Lily Lick's Love Signs for March 2013 - astrology "More have been talked into nakedness and nights of sin with a bag of cheese doodles and wine served in a jam jar than you'd believe. By all means think up a big seduction production, and then just go do something that'll make both of you sweaty, wet, satisfied, and maybe covered in cheese doodle dust." Product Review: Tingletip - reviewed by Lily Lick "This little device packs a pretty big punch in a very multiple orgasmic kind of way.
Clean Sheets Magazine