Changing Your Mind: Videos
Jeff Hawkins' TEDTalk on how brain science will change computing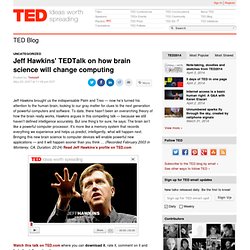 playlist The 20 most-watched TED Talks to date TED is dedicated to ideas worth spreading.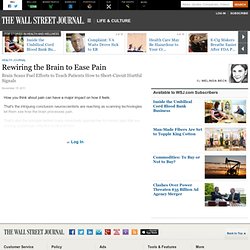 How you think about pain can have a major impact on how it feels. That's the intriguing conclusion neuroscientists are reaching as scanning technologies let them see how the brain processes pain. Alternative remedies for relief of chronic pain are getting new attention and respect these days. Melinda Beck has details on Lunch Break. That's also the principle behind many mind-body approaches to chronic pain that are proving surprisingly effective in clinical trials. Some are as old as meditation, hypnosis and tai chi, while others are far more high tech.
Rewiring the Brain to Ease Pain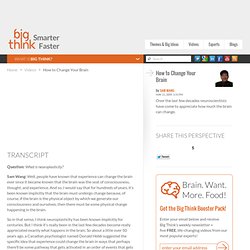 With rendition switcher Question: What is neuroplasticity? Sam Wang: Well, people have known that experience can change the brain ever since it became known that the brain was the seat of consciousness, thought, and experience. And so, I would say that for hundreds of years, it's been known implicitly that the brain must undergo change because, of course, if the brain is the physical object by which we generate our consciousness and ourselves, then there must be some physical change happening in the brain. So in that sense, I think neuroplasticity has been known implicitly for centuries. But I think it's really been in the last few decades become really appreciated exactly what happens in the brain.
How to Change Your Brain | Sam Wang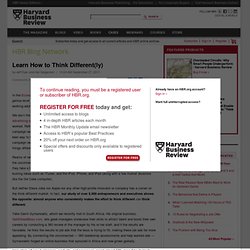 by Jeff Dyer and Hal Gregersen | 10:24 AM September 27, 2011 In the Economist review of our book, The Innovator's DNA , the reviewer wondered whether genius-level innovators such as Marc Benioff, Jeff Bezos, and Steve Jobs challenge the idea that working adults can really learn how to think differently and become innovators. We don't think so. Remember, it was Steve Jobs who jump-started the now-famous "Think Different" advertising campaign as a way to inspire consumers and recharge Apple's innovation efforts. It worked.