Inspiration
Rhetological Fallacies. Buy a printable PDF in English and in French.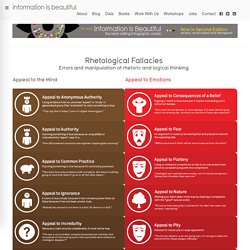 Read the French version – Thanks to Gilles Peyroux. See a text-only version We've now has Rhetological translated into German, Italian and Spanish. The Opposite of Love is Indifference. 5 Reasons StumbleUpon is by Far the Coolest Social Site. This is a bit off topic for this blog so I'll keep it short and sweet.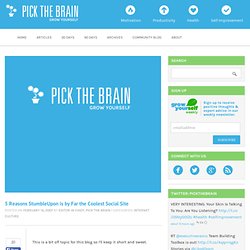 Note: I'm not trying rip on other social sites and take a beat down from their supporters (even though I probably will regardless). I use and enjoy all the sites mentioned in this post. This is merely an expression of personal preference. Different strokes for different folks, or so they say. Love Quotes. Love How You Love Me Love Quotes Passionate love is a quenchless thirst....Kahlil Gibran.
Love is made by two people, in different kinds of solitude. It can be in a crowd, but in an oblivious crowd....Louis Aragon. Enlightened Perspective | analyfe. WOW Stories (wowzone.com) Wish Only Well WOW Classic, inspirational, amazing stories. What monkeys teach us (wowzone.com) WOW stories Wish Only well. Learning the Status Quo Start with a cage containing five monkeys.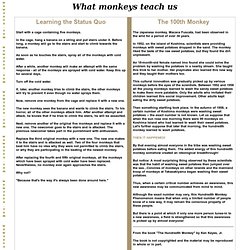 In the cage, hang a banana on a string and put stairs under it. Before long, a monkey will go to the stairs and start to climb towards the banana. As soon as he touches the stairs, spray all of the monkeys with cold water. After a while, another monkey will make an attempt with the same response - all of the monkeys are sprayed with cold water.
Manipulation News, Videos, Reviews and Gossip - Lifehacker. This is really more of a side effect of the way that computer sales work.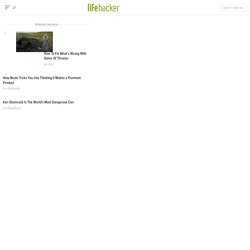 As a computer salesman, my goal is to pair you with a computer that (a) you'll be able to use to accomplish everything you want to do with a computer, including things you weren't thinking about (games, netflix) but that you'll use the thing for anyway, (b) that is capable of running things that your workplace / school will require of you, and also (c) that fits into your lifestyle well enough that it's something you'll be happy to keep using. If I fail at this job, two things will happen.
You'll definitely be upset with me, because I sold you a product that didn't do what you needed. You're also very likely to return the product for a different one, and that hurts my numbers more than me selling you a cheap computer. Text of Steve Jobs' Commencement address (2005) Video of the Commencement address.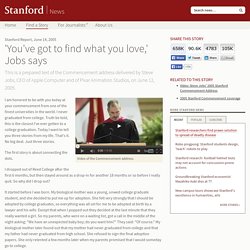 I am honored to be with you today at your commencement from one of the finest universities in the world. I never graduated from college. Truth be told, this is the closest I've ever gotten to a college graduation. Today I want to tell you three stories from my life. That's it.
---