ORGANISMOS INTERNACIONALES ELEN
PAHO/WHO - OPS/OMS
UNICEF
Términos Legales | Vacantes | Mapa | Contacto <p><strong>This page is having a slideshow that uses Javascript. Your browser either doesn't support Javascript or you have it turned off.
NU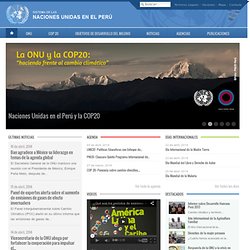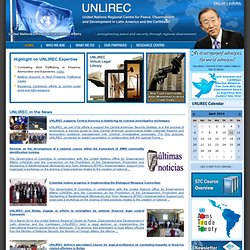 In 2013, UNLIREC will increase its implementation of weapons and ammunition destruction and stockpile management activities in the Caribbean within the context of its Stockpile Management and Firearms Destruction Assistance Package for Caribbean States. The issue of arms control in a maritime context is likely to gain in importance in 2013 and UNLIREC will work with donors and partners to boost the maritime aspects of its training to address the specific needs of Caribbean States. The first quarter of 2013 will see UNLIREC very active in providing support to States such as Antigua and Barbuda, Belize, the Dominican Republic, Jamaica and Trinidad and Tobago to facilitate the destruction of small arms and ammunition. In continuing its delivery of IITC courses for Caribb ...
Wars in the 21st Century A high-level event organized by UNU at UNESCO explored the responsibility to protect, sovereignty, and the roles of the international community » RightLeft Photo: P. Chiang-Joo/UNESCO News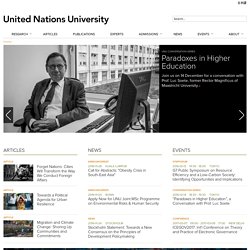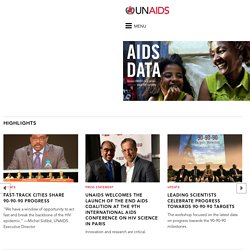 UNAIDS
UNAIDS Board devotes key session to HIV, adolescents and youth. Find out more about the work of the UNAIDS Executive Director around the world. Hotel InterContinental Genève and UNAIDS to raise awareness and funds for an AIDS-free generation.
Organización Internacional para las Migraciones
Libros
We are not a bank in the common sense. Owned by 187 member countries, we are one of the world's largest sources of development assistance, with a mission of fighting poverty with passion by helping people help themselves. Conceived in 1944 to reconstruct a war torn Europe, we work in more than 100 developing countries, bringing a mix of financing programs and ideas to improve living standards and eliminate the worst forms of poverty. Conceived in 1944 to re...