EFL
It is acknowledged that all maps, flags, poetry, lyrics, trademarks, trade names, used or referred to on this website are the property of their respective owners. If you can supply relevant copyright information, please send it (together with your name & address) to: musicalenglishlessons@hotmail.com , or to: Copyright Details, Musical English Lessons International, Thimble Cottage, 99 High Street, Garlinge, Margate, Kent CT9 5LX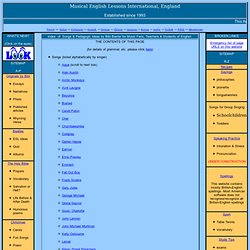 Free Worksheets for Songs
Applying Bloom's Taxonomy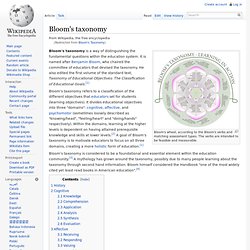 The Bloom's Wheel, according to the Bloom's verbs and matching assessment types. The verbs are intended to be feasible and measurable. Bloom's Taxonomy is a classification of learning objectives within education proposed in 1956 by a committee of educators chaired by Benjamin Bloom who also edited the first volume of the standard text, Taxonomy of educational objectives: the classification of educational goals [ 1 ] (1956). [ 2 ] [ 3 ] Although named after Bloom, the publication followed a series of conferences from 1949 to 1953, which were designed to improve communication between educators on the design of curricula and examinations. [ 4 ] [ 5 ] At this meeting, interest was expressed in a theoretical framework which could be used to facilitate communication among examiners.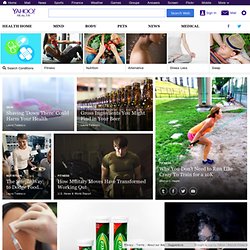 25 key vocab building blocks A two-year-old's limited vocabulary may red flag hearing problems, autism, or dyslexia. Researchers from the Child Study Institute at Bryn Mawr College have identified a list of 25 words every toddler should be using by age two. Dr. Leslie Rescorla , the director of the institute, presented her findings at the annual meeting of the American Association for the Advancement of Science .
The Twenty-Five Words Every Toddler Needs to Know | M.O.M.
Pearson School Systems WebEx Enterprise Site
Green Tara Meditation