Barra
The World in Action. Crea tu propia antena Wifi « MacZapan. Este es un post que llevaba tiempo queriendo publicar, pero que me habría gustado poder mostrároslo con un vídeo propio, pero la falta de tiempo no me lo ha permitido y he encontrado un par de vídeos que explican como hacerlo.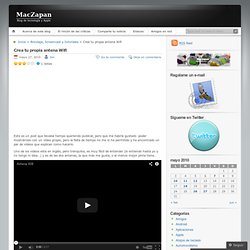 Uno de los vídeos esta en inglés, pero tranquilos, es muy fácil de entender (lo entiendo hasta yo y no tengo ni idea…) y es de las dos antenas, la que más me gusta, o al menos mejor pinta tiene… La otra esta en castellano, aunque la explicación es peor que la otra, también parece una antena bastante maja. El principal motivo para realizar estas antenas es mejorar la señal Wifi que recibimos de nuestro router, para que a la hora de navegar, lo hagamos de una forma más fluida, aunque creo que los del vídeo no tienen la misma idea ;-) pobres vecinos :-) Yo personalmente os recomendaría que os animaseis a hacer la que esta explicada en inglés, además parece más simple ;-) Ya me contareis que os ha salido el bricolaje y nos encontramos en MacZapan ;-) FocusWriter. About FocusWriter is a simple, distraction-free writing environment.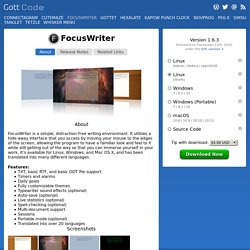 It utilizes a hide-away interface that you access by moving your mouse to the edges of the screen, allowing the program to have a familiar look and feel to it while still getting out of the way so that you can immerse yourself in your work. It's available for Linux, Windows, and Mac OS X, and has been translated into many different languages. Literatura e Internet. Papel en blanco. Wikipedia. Genciencia. YouTube.
Forat.
---