Li-ion Manufacturer
Targray has over 25 years of experience in supplying key materials to high-technology industries. We have an international footprint that enables us to source the globe for best-in-class Li-ion cell and battery materials. In conjunction with our supply partners, we bring globally competitive, high-performance battery materials to our manufacturing customers at a competitive cost. The fabrication of li-ion batteries requires several material components and Targray offers a constant and dependable supply of all items: Lithium Cathode Active Materials (LFP, LCO, LMO, NMC, NCA, CSG etc) Anode Active Materials (Graphite, Graphene) Aluminum (Al) Foils SBR & PVDF Binders Electrolytes, LiPF6 Separators Packaging Materials (Laminate Pouch, Cans)
Targray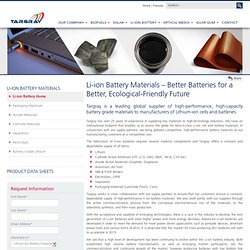 Lithium-ion Battery Protection ICs - Seiko Instruments Inc.
Rechargeable Lithium Ion OEM Batteries - Panasonic
CR2032 - Panasonic - datasheet
Altair
Superior technologies paired with advanced materials differentiate the products we manufacture. EnerDel's quality-driven approach and engineering expertise - more than 85 issued patents with an additional 40 pending - enable us to design solutions that address the needs of our customers and deliver the results they require. EnerDel designs, builds and manufactures lithium-ion energy storage solutions and battery systems with a focus on heavy duty transportation, on- and off-grid electrical, mass transit and task-oriented applications.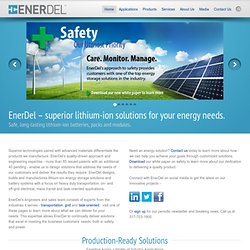 Enerdel main | ener1.com
A123Systems :: Home
home - VARTA Microbattery Location Website Americas
Electric Co.,Ltd. Energy Devices Company | Lithium ion Batteries |
Battery Materials
Electric vehicles are fast becoming a reality around the world. Hybrid, plug-in hybrid, and full electric automobiles all require advanced batteries with unique characteristics. At the same time, today's mobile society has created a growing demand for handheld electronics – including smart phones, GPS, media players and digital recording devices – that are smaller and offer more power-hungry features.
Battery Finder - Renata SA