Li-ion Manufacturer
Targray is a leading global supplier of high-performance, high-capacity battery grade materials to manufacturers of Lithium-ion cells and batteries. Targray has over 25 years of experience in supplying key materials to high-technology industries. We have an international footprint that enables us to source the globe for best-in-class Li-ion cell and battery materials.
Targray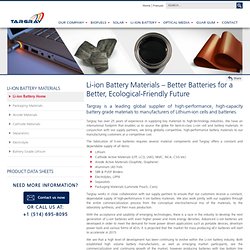 Lithium-ion Battery Protection ICs - Seiko Instruments Inc.
Rechargeable Lithium Ion OEM Batteries - Panasonic
CR2032 - Panasonic - datasheet
Altair
Enerdel main | ener1.com
A123Systems :: Home
home - VARTA Microbattery Location Website Americas
Electric Co.,Ltd. Energy Devices Company | Lithium ion Batteries |
Battery Materials
Electric vehicles are fast becoming a reality around the world. Hybrid, plug-in hybrid, and full electric automobiles all require advanced batteries with unique characteristics. At the same time, today's mobile society has created a growing demand for handheld electronics – including smart phones, GPS, media players and digital recording devices – that are smaller and offer more power-hungry features.
Battery Finder - Renata SA