Li-ion Manufacturer
Targray is a leading global supplier of high-performance, high-capacity battery grade materials to manufacturers of Lithium-ion cells and batteries. Targray has over 25 years of experience in supplying key materials to high-technology industries. We have an international footprint that enables us to source the globe for best-in-class Li-ion cell and battery materials.
Targray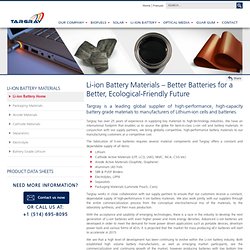 Lithium-ion Battery Protection ICs - Seiko Instruments Inc.
Rechargeable Lithium Ion OEM Batteries - Panasonic
CR2032 - Panasonic - datasheet
Altair
Superior technologies paired with advanced materials differentiate the products we manufacture. EnerDel's quality-driven approach and engineering expertise - more than 85 issued patents with an additional 40 pending - enable us to design solutions that address the needs of our customers and deliver the results they require. EnerDel designs, builds and manufactures lithium-ion energy storage solutions and battery systems with a focus on heavy duty transportation, on- and off-grid electrical, mass transit and task-oriented applications. EnerDel's engineers and sales team consists of experts from the industries it serves - transportation, grid and task-oriented - visit one of these pages to learn more about what we can deliver for your needs. This expertise allows EnerDel to continually deliver solutions that excel in meeting the business customers' needs, both in safety and power. Need an energy solution?
Enerdel main | ener1.com
A123Systems :: Home
home - VARTA Microbattery Location Website Americas
Electric Co.,Ltd. Energy Devices Company | Lithium ion Batteries |
Battery Materials
Electric vehicles are fast becoming a reality around the world. Hybrid, plug-in hybrid, and full electric automobiles all require advanced batteries with unique characteristics. At the same time, today's mobile society has created a growing demand for handheld electronics – including smart phones, GPS, media players and digital recording devices – that are smaller and offer more power-hungry features.
Battery Finder - Renata SA