Geography
East Asia Map Quiz
Chinese Officials Investigating Accusations of Toxic Metal Dumping by Two Apple Suppliers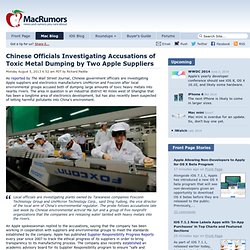 As reported by The Wall Street Journal, Chinese government officials are investigating Apple suppliers and electronics manufacturers UniMicron and Foxconn after local environmental groups accused both of dumping large amounts of toxic heavy metals into nearby rivers. The area in question is an industrial district 40 miles west of Shanghai that has been a longtime area of electronics development, but has also recently been suspected of letting harmful pollutants into China's environment. Local officials are investigating plants owned by Taiwanese companies Foxconn Technology Group and UniMicron Technology Corp., said Ding Yudong, the vice director of the local arm of China's environmental regulator. The probe follows accusations late last week by Chinese environmental activist Ma Jun and a group of five nonprofit organizations that the companies are releasing water tainted with heavy metals into the rivers.
The Treme neighborhood is only a few miles from the Lakeview neighborhood in New Orleans, but in terms of life expectancy those few miles might as well be worlds away. While residents in Lakeview have a life expectancy of approximately 80 years, which is slightly more than the U.S. average of 79 years, the life expectancy for Treme residents is only 54.5 years, which is lower than the life expectancy in Cambodia, Gabon or Guinea. A series of maps recently released by the Robert Wood Johnson Foundation, the largest U.S. philanthropy organization devoted to public health, was designed to draw attention to the fact that, in many cities, different neighborhoods can have vastly different life expectancies, some on par with the life expectancies of developing countries.
Wrong Zip Code Can Mean Shorter Life Expectancy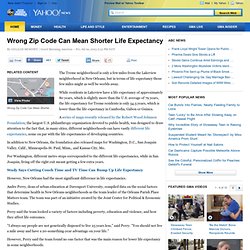 Looking at the world via Google Earth offers striking images of the diversity of our planet and the impact that humans have on it. Today's entry is a puzzle -- part 2 in a series (part 1 here), in which we challenge you to figure out where in the world each of the images below was taken. (Unlike part 1, we're making this one multiple choice.) Note that north is not always up in these pictures. Also, be assured that, apart from a bit of contrast, these images are unaltered; they are exactly what Google and its mapping partners provide. So have a look at the images below, make your guesses, and see your score at the end.