Music
Trent Reznor's Band Has A Great New Song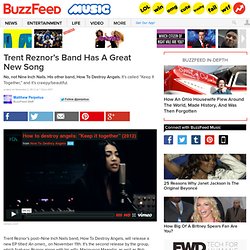 Trent Reznor's post–Nine Inch Nails band, How To Destroy Angels, will release a new EP titled An omen_ on November 11th. It's the second release by the group, which features Reznor along with his wife, Mariqueen Maandig, as well as Rob Sheridan and Atticus Ross, his collaborator on several late-period NIN projects and the Academy Award–winning The Social Network score. "Keep It Together" starts off slowly, with the emphasis on Maandig's vocals and eerie electronic pulses, but as it moves along it shifts into a duet with Reznor. It's not a world away from NIN, but the collaborative spirit, presence of female vocals, and the absence of rock elements are notable differences from the old stuff.
What would a perfectly symmetrical Thom Yorke look like?
6 Popular Upbeat Songs You Didn't Realize Are Depressing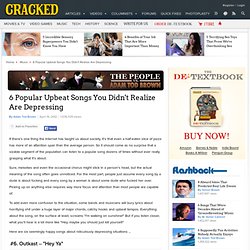 If there's one thing the Internet has taught us about society, it's that even a half-eaten slice of pizza has more of an attention span than the average person. So it should come as no surprise that a sizable segment of the population can listen to a popular song dozens of times without ever really grasping what it's about. Sure, melodies and even the occasional chorus might stick in a person's head, but the actual meaning of the song often goes unnoticed.
Video explains the world's most important 6-sec drum loop
Watch Now! Glee Star Darren Criss and Kermit the Frog Duet Before the Oscars - Red Carpet | E!Online
Ready for the whole shebang? Eariler today, we teased you with a few pics from Darren Criss and Kermit the Frog's cutesy pre-Oscars duet rehearsal…and now we have the full performance just for you! MORE: Darren Criss Reveals How Long He'll Be Gone From Glee and More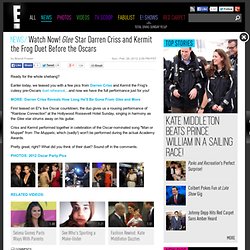 Nine Inch Nails - Into The Void (Full) - 720p
nin.com [the official nine inch nails website]
MadonnaOnline – MOL – O site da Madonna no Brasil e na MTV
Hoje é aniversário do David Bowie! Vamos relembrar Madonna falando sobre ele no Rock and Roll Hall of Fame em 1996. "Desculpe David Byrne, mas também tenho que mostrar o quão lindo é o David Bowie. É um homem muito bonito! Antes de eu assistir o David Bowie ao vivo, eu era apenas uma adolescente normal e rebelde do Centro-Oeste e ele realmente mudou a minha vida. Eu sempre tive uma ligação sentimental com David Bowie, e não apenas porque eu cresci ouvindo sua música, mas porque ele foi o primeiro show de rock que eu vi e foi um grande acontecimento em minha vida.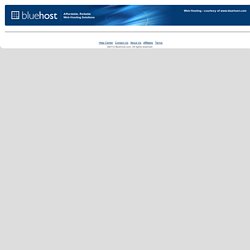 Lady Gaga | Yoü and I
Kylie Minogue | Aphrodite
Radiohead: Adam King tries to convince me they are aliens… - State of Mind Music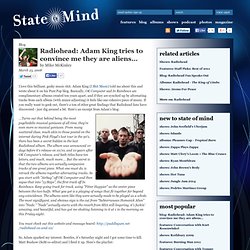 I love this brilliant' geeky music shit. Adam King (I Shit Music) told me about this and wrote about it on his Pure Pop blog. Basically, OK Computer and In Rainbows are complimentary albums created ten years apart, and if they are synched up by alternating tracks from each album (with minor adjusting) it feels like one cohesive piece of music. If you really want to geek out, there's a ton of other great findings that Radiohead fans have discovered - just dig around a bit.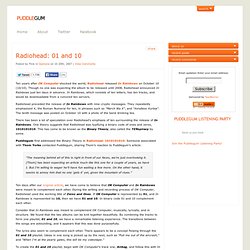 Radiohead: 01 and 10 Posted by Flick in Opinions on | View Comments Ten years after OK Computer shocked the world, Radiohead released In Rainbows on October 10 (10/10). Though no one was expecting the album to be released until 2008, Radiohead announced In Rainbows just ten days in advance. In Rainbows, which consists of ten letters, has ten tracks, and would be downloadable from a rumored ten servers. Radiohead preceded the release of In Rainbows with nine cryptic messages.
Radiohead: 01 and 10 | Puddlegum