Music
Get flash to fully experience Pearltrees
If there's one thing the Internet has taught us about society, it's that even a half-eaten slice of pizza has more of an attention span than the average person. So it should come as no surprise that a sizable segment of the population can listen to a popular song dozens of times without ever really grasping what it's about. Sure, melodies and even the occasional chorus might stick in a person's head, but the actual meaning of the song often goes unnoticed.
Ready for the whole shebang? Eariler today, we teased you with a few pics from Darren Criss and Kermit the Frog's cutesy pre-Oscars duet rehearsal …and now we have the full performance just for you! MORE: Darren Criss Reveals How Long He'll Be Gone From Glee and More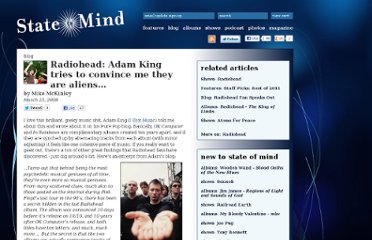 I love this brilliant' geeky music shit. Adam King ( I Shit Music ) told me about this and wrote about it on his Pure Pop blog. Basically, OK Computer and In Rainbows are complimentary albums created ten years apart, and if they are synched up by alternating tracks from each album (with minor adjusting) it feels like one cohesive piece of music. If you really want to geek out, there's a ton of other great findings that Radiohead fans have discovered - just dig around a bit.
Radiohead: 01 and 10 Posted by Flick in Opinions on | View Comments Ten years after OK Computer shocked the world, Radiohead released In Rainbows on October 10 (10/10). Though no one was expecting the album to be released until 2008, Radiohead announced In Rainbows just ten days in advance. In Rainbows , which consists of ten letters, has ten tracks, and would be downloadable from a rumored ten servers. Radiohead preceded the release of In Rainbows with nine cryptic messages.