REAs
Free to learn
Curso Moodle Web 2.0
Docencia en ambientes de apendizaje mediados por TICs (UPB)
Open Course in Education Futures | Open to all.
E-learn 2009
February 23rd, 2010 By Alvina Lopez It doesn't matter if you're a veteran teacher or a newbie just now taking college courses — finding new ways to get students engaged in the classroom is always a great thing. One way many teachers are reaching out is with the multitude of material found on the web, allowing them to turn everyday lessons into a multimedia experience.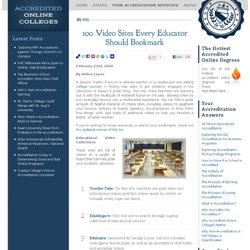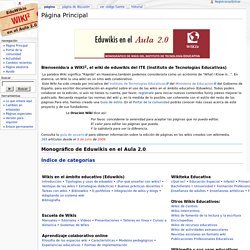 De Wikis en Educación Bienvenido/a a WIKI 2 , el wiki de eduwikis del ITE (Instituto de Tecnologías Educativas) La palabra Wiki significa " Rápido " en Hawaiano,también podemos considerarla como un acrónimo de " What I Know Is... ". En esencia, un Wiki (o una wiki) es un sitio web colaborativo. Este Wiki ha sido creado por iniciativa del Instituto de Tecnologías Educativas del Ministerio de Educación del Gobierno de España, para escribir documentación en español sobre el uso de las wikis en el ámbito educativo (Eduwikis). Todos podéis colaborar en la edición, si aún no tienes tu cuenta, por favor, regístrate para iniciar nuevos contenidos funny jokes o mejorar lo publicado.
Wikis en Educación
Open Ed at Creative Commons
The Internet and digital technologies have transformed how people learn. Educational resources are no longer static and scarce, but adaptable and widely available, allowing educational institutions, teachers, and learners to actively participate in a global exchange of knowledge via Open Educational Resources (OER). What is OER? Open Educational Resources (OER) are learning materials that are freely available to use , remix , and redistribute . Finding OER
Lit_handbook_3rd_en.swf (application/x-shockwave-flash Object)
Thinking Skills | AEA 267 Curriculum, Instruction & Assessment
Log in
Home - OLCOS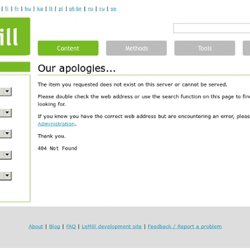 Content
cs | de | en | es | et | fi | fr | hu | ka | lt | pl | pt-br | ro | ru | se Log in Join Content Methods Tools
Donate There are a lots of ways to get involved with Curriki from contributing resources to sponsoring content. Curriki's non-profit Tax ID # is 203478467. You can also help us with tax deductible donations: Volunteer If you are looking for meaningful volunteer opportunities, we would love to hear from you. We need educators to help curate content, organize educational collections and rate our resources. Please click the button below and fill out the contact form and we will follow up with you right away.
NSF and the Birth of the Internet - Special Report
E-Textos universitarios gratuitos, monografías, artículos, conferencias on-line
Curso sobre Moodle
Curso sobre Moodle ¿Qué es esto? Esta documentación es la guía central de documentación que he usado en algún que otro curso de formación on-line sobre Moodle. En su primera parte se intenta acercar la herramienta desde la perspectiva de un alumno, para a continuación desarrollar sus posibilidades desde el punto de vista del profesor. ¿Por qué se libera la misma?