Web 2.0 Tooks for Students
Mentimeter. Bloom's Digital Web2.0. This work compiled by:Kathy Beck, Instructional Technology Coordinator andKaren VanVliet, Media Specialist A little bit about Karen and Kathy - two girls who REALLY love exploring and sharing Technology for Educators and Students to integrate into the learning environment!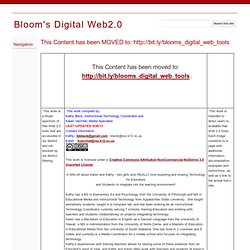 Kathy has a BS in Elementary Ed and Psychology from the University of Pittsburgh and MA in Educational Media and Instructional Technology from Appalachian State University. She taught elementary students, taught in a computer lab, and has been working as an Instructional Technology Coordinator currently serving 7 schools, training Educators and working with teachers and students collaboratively on projects integrating technology. Karen has a Bachelors of Education in English as a Second Language from the University of Hawaii, a MS in Administration from the University of Notre Dame, and a Masters of Education in Educational Media from the University of South Alabama.
Civil Rights Hot Spots Timeline. Tagxedo - Word Cloud with Styles. PowerPoint Presentations Online - Upload and Share on authorSTREAM. Kerpoof Studio. BrainPOP - Animated Educational Site for Kids - Science, Social Studies, English, Math, Arts. Wonders. Home - Creaza Education.
GoAnimate - Make your own animated videos. It's easy and fun. ShowMe - The Online Learning Community. Museum Box Homepage. §. Beautiful Word Clouds.
Voki Home. EDU - 21st century multimedia tool for educators, teachers and students / Text, Images, Music and Video. Prezi - The Zooming Presentation Editor. Secure Social Learning Network for Teachers and Students.
---