Web 2.0 Tooks for Students
Bloom's Digital Web2.0
This work compiled by:Kathy Beck, Instructional Technology Coordinator andKaren VanVliet, Media Specialist A little bit about Karen and Kathy - two girls who REALLY love exploring and sharing Technology for Educators and Students to integrate into the learning environment! Kathy has a BS in Elementary Ed and Psychology from the University of Pittsburgh and MA in Educational Media and Instructional Technology from Appalachian State University. She taught elementary students, taught in a computer lab, and has been working as an Instructional Technology Coordinator currently serving 7 schools, training Educators and working with teachers and students collaboratively on projects integrating technology. Karen has a Bachelors of Education in English as a Second Language from the University of Hawaii, a MS in Administration from the University of Notre Dame, and a Masters of Education in Educational Media from the University of South Alabama.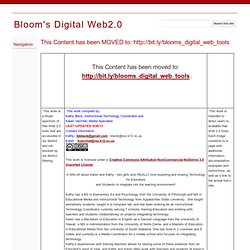 Civil Rights Hot Spots Timeline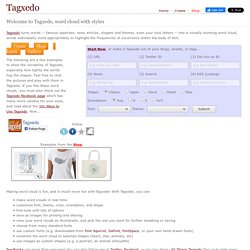 Tagxedo turns words -- famous speeches, news articles, slogans and themes, even your love letters -- into a visually stunning word cloud, words individually sized appropriately to highlight the frequencies of occurrence within the body of text. Create Shop Learn Gallery The following are a few examples to show the versatility of Tagxedo, especially how tightly the words hug the shapes.
Wonders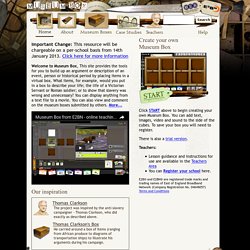 Important Change: This resource will be chargeable on a per-school basis from 14th January 2013. Click here for more information Welcome to Museum Box, This site provides the tools for you to build up an argument or description of an event, person or historical period by placing items in a virtual box. What items, for example, would you put in a box to describe your life; the life of a Victorian Servant or Roman soldier; or to show that slavery was wrong and unnecessary? You can display anything from a text file to a movie.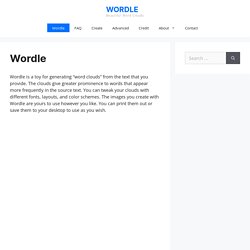 Wordle is a toy for generating "word clouds" from text that you provide. The clouds give greater prominence to words that appear more frequently in the source text. You can tweak your clouds with different fonts, layouts, and color schemes. The images you create with Wordle are yours to use however you like. You can print them out, or save them to the Wordle gallery to share with your friends.
EDU - 21st century multimedia tool for educators, teachers and students / Text, Images, Music and Video