News Around The Horn Of The MainScream News
Open The Government's 2010 Secrecy Report Card is out. According to the site, the report is focused "on making the federal government a more open place to make us safer, strengthen public trust in government, and support our democratic principles." The Report Card is described as, …a quantitative report on indicators of government secrecy.
People's Blog for the Constitution :: 2010 Secrecy Report Card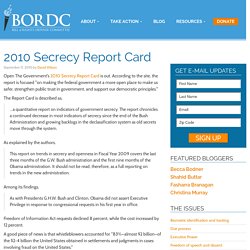 As Glenn Beck and Sarah Palin continue to polish their stars on the boulevard of national conservative politics, the question arises: Where are the liberal counterpoints to their red meat, right-wing struts? Skip to next paragraph Recent posts
As Palin and Beck rise on the right, where is the left's answer?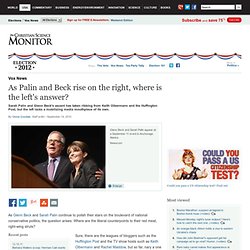 Some free advice for President Obama: take a deep breath, admit the Democratic Party has failed to grasp the enormity of economic upheaval in this country—and start using government's powers to create jobs, jobs, jobs. The Obama White House is dabbling in small ideas when what the country needs is a big reset of this presidency. My suggestion: dump the measured moderation. It's not working as economic strategy or as politics. Take a deep breath and admit the Democratic Party failed to grasp the enormity of the economic upheaval facing the country—people will be grateful for some honest talk.
What Obama's Presidency Needs: A Big Reset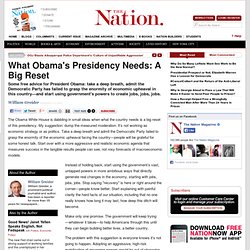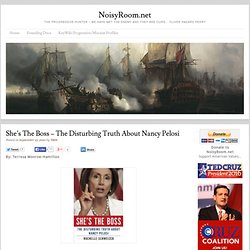 By: Terresa Monroe-Hamilton
» She's The Boss – The Disturbing Truth About Nancy Pelosi NoisyRoom.net: The Progressive Hunter
3rd World America, Here We Come?
September 15, 2010 | Like this article? Join our email list: Stay up to date with the latest headlines via email.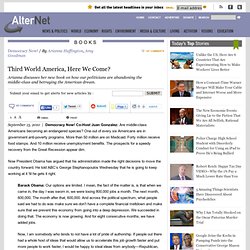 WikiLeaks Readying Massive Leak of Iraq-Related Documents
By David Swanson When U.S. media pundits claim that every other nation on earth honestly believed the absurd lies George W. Bush told about Iraqi weapons and ties to terrorism, the grain of truth is that one leader of one foreign nation went along with the lies: British Prime Minister Tony Blair.
Only in America Can Blair Go Out in Public | War Is A Crime .org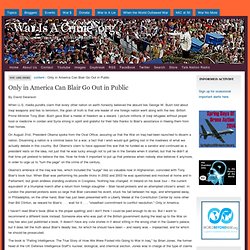 TomDispatch
Will John Boehner's lobbyist ties hurt the GOP
Nancy Pelosi has criticised John Boehner for helping lobbyists advance their political agendas. Getty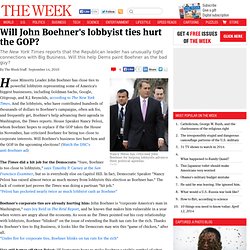 Never Forget: Bad Wars Aren't Possible Unless Good People Back Them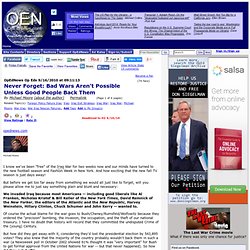 Michael Moore
Historians Urge Court to Unseal Nixon's 1975 Grand Jury Testimony | CommonDreams.org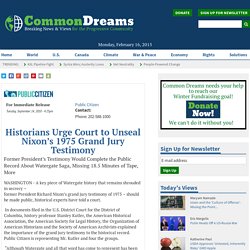 WASHINGTON - September 14 - A key piece of Watergate history that remains shrouded in secrecy – former President Richard Nixon's grand jury testimony of 1975 – should be made public, historical experts have told a court. In documents filed in the U.S. District Court for the District of Columbia, history professor Stanley Kutler, the American Historical Association, the American Society for Legal History, the Organization of American Historians and the Society of American Archivists explained the importance of the grand jury testimony to the historical record.
Sept. 14, 2010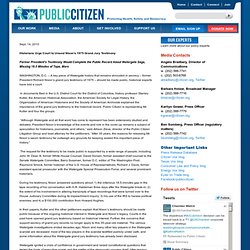 Public Citizen Press Room
The year's 5 biggest political heroes
O'Donnell warned of "orgy rooms" in college dorms - War Room
O'Donnell's Victory Renews Her Fight Against the Scourge of Sex in America
*To my fans, this isn't typically the kind of article I publish.
September 2010, Vol. 9, No. 9
Newsletter: September 2010
U.S. Constitution Grants People Ultimate Power For Revolution
Chris Hedges Interviewed by Rob Kall, on the dying media, the Middle East, Rebellion in America and more
thanks to volunteer Nancy Parish for transcribing
12 of America's Most Crooked Candidates on the Ballot in the 2010 Election
September 15, 2010 | Like this article? Join our email list:
Our Menace Isn't Insane Right-Wingers, It's Unrivaled Corporate Power and the Decay of Our Democratic Institutions
Chris Hedges: Do Not Pity the Democrats - Chris Hedges' Columns
Right Wing Leftovers
GOP con game
U.S.-Saudi Arms Deal Moves Ahead
Quran Burning / Rationalized Islamophobia
Ten Things Dems Could Do to Win
Nancy Pelosi reassures Congressional Black Caucus on job creation - Marin Cogan
Michael Steele's 'Fire Pelosi' bus tour: 48 states or bust
Is the Tea Party waiting to burst out of the GOP's chest?
The Root: Newt Gingrich Adds To Right-Wing Rumors
Consortiumnews.com
Conservative and Tea Party Rallies and Trainings Dominate the Capital: Are Progressives and Liberal Democrats About to Be Out-Organized?
Expert Analysis: Could Tea Party Candidates Hurt Republicans? - OzarksFirst.com
G.O.P. Insurgents Win in Del. and N.Y.
Rep. Mike Castle: The 'Lies' Of Hannity And Limbaugh Were 'Significant' Reasons I Lost To Christine O'Donnell (VIDEO)
Understanding Fascism and anti-Semitism
Fascism is coming to the USA... Literally (no kidding)
The Rise of American Fascism
Letters: The Democratic fear-based strategy - Salon
Judge delays decision in 'Creech 14' drone trial - Tuesday, Sept. 14, 2010 | 4:53 p
issues/2010/News.Release.court_9.14.pdf
A.M. Politics Links: Nancy Pelosi predicts victory, Gen. Petraeus watches paint dry
Why Democrats will keep control of Congress in November
Senate opens impeachment trial agains... - Google News
'Louisiana way' on full display at Judge Thomas Porteous' trial: Stephanie Grace