Data journalism
Get flash to fully experience Pearltrees
A graph showing the number of IEDs cleared from the Afghanistan War Logs Only a couple of years ago, the idea that journalists would need to know how to use a spreadsheet would have been laughed out of the newsroom. Now those benighted days are way behind us and extracting stories out of data is part of every journalist's toolkit of skills.
Data journalism is huge. I don't mean 'huge' as in fashionable - although it has become that in recent months - but 'huge' as in 'incomprehensibly enormous'. It represents the convergence of a number of fields which are significant in their own right - from investigative research and statistics to design and programming.
Journalism has always been about reporting facts and assertions and making sense of world affairs. No news there. But as we move further into the 21st century, we will have to increasingly rely on "data" to feed our stories, to the point that "data-driven reporting" becomes second nature to journalists.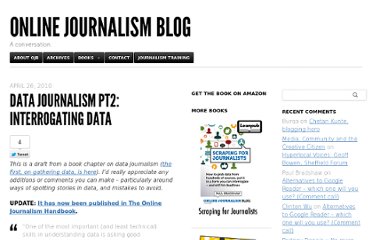 This is a draft from a book chapter on data journalism ( the first, on gathering data, is here ). I'd really appreciate any additions or comments you can make – particularly around ways of spotting stories in data, and mistakes to avoid. UPDATE: It has now been published in The Online Journalism Handbook .