Framework JS
Product Overview - Cross-platform hybrid mobile app development - Icenium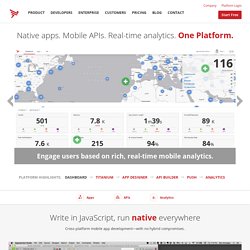 We handle device and OS compatibility. You build rich native apps. Appcelerator Titanium – An open, extensible development environment for creating beautiful native apps across different mobile devices and OSs including iOS, Android, and BlackBerry, as well as hybrid and HTML5. It includes an open source SDK with over 5,000 device and mobile operating system APIs, Studio, a powerful Eclipse-based IDE, Alloy, an MVC framework and Cloud Services for a ready-to-use mobile backend.
README.md emy !!! Repo has moved to https://github.com/EmyLibrary/emy !!!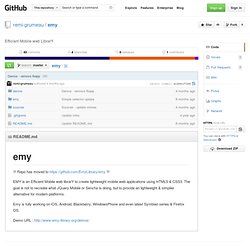 remi-grumeau/emy
HTML5 Enterprise Application Architecture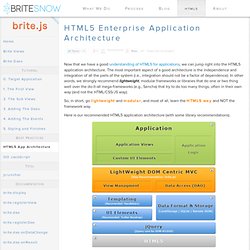 Now that we have a good understanding of HTML5 for applications, we can jump right into the HTML5 application architecture. The most important aspect of a good architecture is the independence and integration of all the parts of the system (i.e., integration should not be a factor of dependence). In other words, we strongly recommend lightweight, modular frameworks or libraries that do one or two thing well over the do-it-all mega-frameworks (e.g., Sencha) that try to do too many things, often in their own way (and not the HTML/CSS/JS way). So, in short, go lightweight and modular, and most of all, learn the HTML5 way and NOT the framework way. Here is our recommended HTML5 application architecture (with some library recommendations). From bottom to top:
About Strikingly Strikingly brings beautiful mobile websites to everyone. What's so special about a Strikingly site?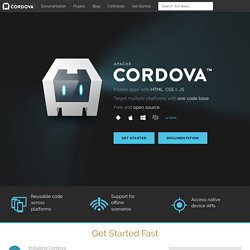 About Apache Cordova™ Apache Cordova is a set of device APIs that allow a mobile app developer to access native device function such as the camera or accelerometer from JavaScript. Combined with a UI framework such as jQuery Mobile or Dojo Mobile or Sencha Touch, this allows a smartphone app to be developed with just HTML, CSS, and JavaScript. When using the Cordova APIs, an app can be built without any native code (Java, Objective-C, etc) from the app developer. Instead, web technologies are used, and they are hosted in the app itself locally (generally not on a remote http server).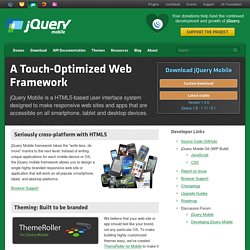 Seriously cross-platform with HTML5 jQuery Mobile framework takes the "write less, do more" mantra to the next level: Instead of writing unique applications for each mobile device or OS, the jQuery mobile framework allows you to design a single highly-branded responsive web site or application that will work on all popular smartphone, tablet, and desktop platforms. Graded Browser Support Theming: Built to be branded We believe that your web site or app should feel like your brand, not any particular OS. To make building highly customized themes easy, we've created ThemeRoller for Mobile to make it easy to drag and drop colors and download a custom theme.