Prezi
21ways / Prezi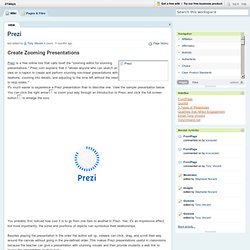 Prezi is a free online tool that calls itself the "zooming editor for stunning presentations." Prezi.com explains that it "allows anyone who can sketch an idea on a napkin to create and perform stunning non-linear presentations with relations, zooming into details, and adjusting to the time left without the need to skip slides." It's much easier to experience a Prezi presentation than to describe one.
northedgecombetechnology.wikispaces.com/file/view/PREZI.pdf
Prezi.com – Create astonishing presentations « Magic in Education!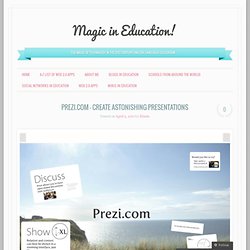 If you want to create a lot of presentations using your computer but do not want to have to create slides, prezi.com is an application that suits you. It is an application that lets you create your own presentation online. The thing which makes this application different from other similar applications(eg. Microsoft PowerPoint) is that you do not have to create different slides. You place your material, such as text, images, videos and other presentation objects on a surface that works like a kind of "canvas". In this way, you are able to create non-linear presentations and zoom in or out in order to go through all the material you have placed on your presentation, Also, you have the ability to create a "path" in which you will arrange the order in which your material is going to be presented.
The True Benefits Of Integrating Prezi Presentation Software
One of the biggest struggles companies face is creating a presentation that is informative yet captivating and memorable. For many years the only resource available was Microsoft PowerPoint. Now companies have the option of working with a new presentation tool called Prezi. Prezi is a new cloud-based software tool that has taken presentations to a whole new level. What sets Prezi apart from other presentation software is the zoomable canvas that allows an endless creative outlet for new ideas and an innovative way to make connections between them.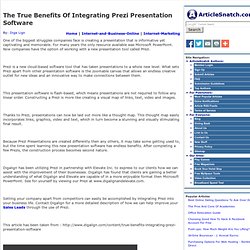 Lessons learned from creating my first prezi
I recently told you about Prezi, a web-based tool that enables you to arrange and present your ideas in a highly visual, compelling format.I recently created my first prezi, a promotion for the Mind Mapping Insider membership program: In the process of creating this presentation, I learned a number of things about Prezi, both pro and con: Pros I laid out my main points in linear order in Notepad, and then used them as a guide to create a corresponding hierarchy of objects in the workspace.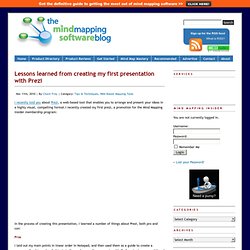 Update: the Prezi itself, below, was updated in May 2013 with some more tips, examples, FAQs, and also to cover the new Prezi interface. I've been meaning to do this for ages, so here we go: a complete guide to the presentation software Prezi, from what it is and why to use it right up to advanced techniques for making your presentation absolutely killer. Works best on full-screen, as ever. I created this for a workshop next week in the library, so I was going to launch it then – but Prezi themselves have started promoting it via their Facebook presence and on their Explore page. (You should really check out the Explore page, some of the Prezis on there are amazing!) So seeing as it's gone global already, I've brought things forward.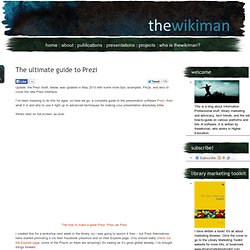 deepblue.lib.umich.edu/bitstream/2027.42/78306/1/Prezi.pdf
Grassroots Oracle: Please practically plan your prezi presentation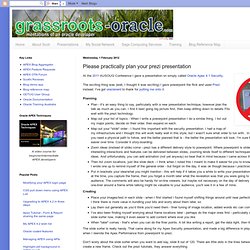 At the 2011 AUSOUG Conference I gave a presentation on simply called Oracle Apex 4.1 Security. The exciting thing was (well, I thought it was exciting) I gave powerpoint the flick and used Prezi instead. I've got oraclenerd to thank for putting me onto it. Planning Plan - it's an easy thing to say, particularly with a new presentation technique, however plan the talk as much as you can. I find it best going big picture first, then keep drilling down to details Fits well with the prezi technology.Map out your list of topics - When I write a powerpoint presentation I do a similar thing.
www.berks.psu.edu/Documents/Academics/Prezi_CreatingPresentations.pdf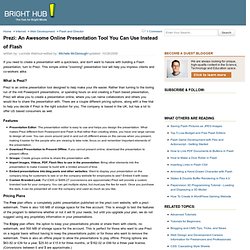 If you need to create a presentation with a quickness, and don't want to hassle with building a Flash presentation, turn to Prezi. This simple online "zooming" presentation tool will help you impress clients and co-workers alike. What is Prezi?Prezi is an online presentation tool designed to help make your life easier. Rather than turning to the boring run of the mill Powerpoint presentations, or spending hours on end creating a Flash based presentation, Prezi will allow you to create a presentation online, where you can name collaborators and others you would like to share the presentation with. There are a couple different pricing options, along with a free trial to help you decide if Prezi is the right solution for you.
Learn About Prezi: The Online Presentation Tool
Prezi Zooming Lecture Presentations for Public Speaking Handbook, 4/E - Steven A. Beebe & Susan J. Beebe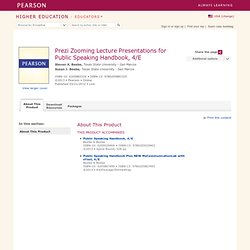 This work is protected by local and international copyright laws and is provided solely for the use of instructors in teaching their courses and assessing student learning. Dissemination or sale of any part of this work (including on the World Wide Web) will destroy the integrity of the work and is not permitted. The work and materials from this site should never be made available to students except by instructors using the accompanying text in their classes. All recipients of this work are expected to abide by these restrictions and to honor the intended pedagogical purposes and the needs of other instructors who rely on these materials.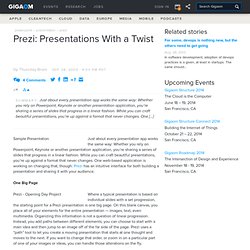 Just about every presentation app works the same way: Whether you rely on Powerpoint, Keynote or another presentation application, you're sharing a series of slides that progress in a linear fashion. While you can craft beautiful presentations, you're up against a format that never changes. One web-based application is working on changing that, though: Prezi has an intuitive interface for both building a presentation and sharing it with your audience. One Big Page Where a typical presentation is based on individual slides with a set progression, the starting point for a Prezi presentation is one big page.
Prezi: Presentations With a Twist — Online Collaboration
Images in Prezi: everything you need to know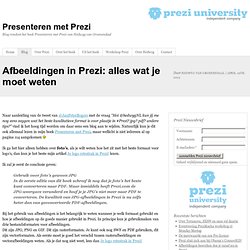 Naar aanleiding van de tweet van @JanPeterBogers met de vraag "Hoi @hedwygNL kun jij me nog eens zeggen wat het beste kwalitatieve format is voor plaatje in #Prezi? jpg? pdf? andere tips?" vind ik het hoog tijd worden om daar eens een blog aan te wijden. Natuurlijk kun je dit ook allemaal lezen in mijn boek Presenteren met Prezi, maar wellicht is niet iedereen al op pagina 114 aangekomen
Direct inschrijven Ik wil eerst meer informatie Omschrijving: Prezi is de nieuwe, online presentatietool waarmee presentaties op een creatieve manier worden gemaakt. De tool begint steeds populairder te worden en wordt ook wel de PowerPoint-killer genoemd. Dat is niet voor niets. Een Prezi-presentatie bestaat uit een groot wit canvas waarop de presentatie gemaakt wordt.
Through Milia - knowledge for the Web
Course Prezi - affordable - practically - in-company in all regions - SignOn
Workshop Prezi | Secretary Management Insitute
Nu op het Blog 17 april 2014 het Secretaressedag, de dag waarbij de managementondersteuners van Nederland in het zonnetje gezet mogen worden. In de ...Lees verder
Workshop Prezi Prezi is nieuw, Prezi is fantastisch. Met Prezi maak je een dynamische presentatie waarmee je jouw publiek enthousiast maakt. Prezi is een nieuwe online presentatietool waarmee presentaties op een ándere manier worden gemaakt. Wat is er dan zo bijzonder aan Prezi?
Workshop Prezi «PURE Social Media
Inspirerende trainingen en bijzonder presentatie design ThePreziExperience geeft InCompany Prezi trainingen aan mensen die willen leren hoe ze zelf effectief met Prezi kunnen werken om boeiende presentaties te maken. Communicatieprofessionals, trainers, sprekers, docenten en studenten. Een beproefde aanpak brengt je presentatiekracht in korte tijd een grote stap verder.
Prezi workshop
Prezi leren is niet moeilijk, maar het is wel erg efficïent om vanuit een solide basis te beginnen aan je Prezi-creaties! Met onze Prezi Workshop (Incompany of individueel) heb je Prezi in een halve dag onder de knie.... Je kunt na afloop een goede en prachtige Prezi maken! Veel tips met voorbeelden en valkuilen! Hoe werkt Prezi, de opbouw van een goede Prezi met stappenplan, een stijl kiezen, teksten toevoegen, lijnen en kaders maken, hyperlinks maken, afbeeldingen toevoegen, gebruik van video (bijv.
LEERPREZI.NL
Course Presentations with Prezi planned in Groningen, Amsterdam, Rotterdam, Utrecht, Eindhoven, Zwolle, The Hague, Maastricht
Training Prezi - Groningen, Friesland, Drenthe.
Training Prezi - ExplainiT
Prezi course - follow this course at Eduvision
Course Prezi, making presentations; next start May 21 in Utrecht
Korean Hangul style proposal :: @preziedu by Jihoon Roh on Prezi
Prezi Usage Statistics
ekşi sözlük - kutsal bilgi kaynağı
Stand Out From Competitors With Prezi Presentations
View Your Prezi Presentations Anywhere Via New iPad App
Ten Essential Business Tools - Presentations: Prezi.com - Slideshow from PCMag.com
On train to Tokyo watching one of the best TED talks ever
Have you ever seen a great talk given with the help of Prezi? Do you have a link?
How to create a good prezi – World Economic Forum
About Adam Somlai-Fischer @ aether architecture
Prezi
Zoey shows Prezi (kopie) by Hedwyg van Groenendaal on Prezi
Prezi
Prezi Training : UK Europe US and the world : Online e-learning courses : Hands-on sessions
Notifications
Prezi presentation professional help? | Lupadesign