Social Media
Advertising. Facebook Ad. Les outils VRAIMENT utiles aux Community Managers. Il faut être honnête, des outils pour les community managers, il y en a un peu près 10 qui sortent chaque jour, il y a même des blogs qui se spécialisent dans la reprise de news souvent rythmés par ces innovations.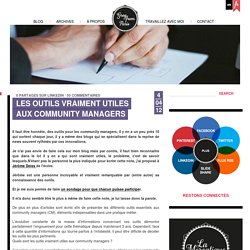 Je n'ai pas envie de faire cela sur mon blog mais par contre, il faut bien reconnaître que dans le lot il y en a qui sont vraiment utiles, le problème, c'est de savoir lesquels.N'étant pas la personne la plus indiquée pour écrire cette note, j'ai proposé à Jérôme Deiss de l'écrire. Jérôme est une personne incroyable et vraiment remarquable par (entre autre) sa connaissance des outils. How to Create Social Media Business Guidelines.
Social media policies and guidelines provide your business a framework to carry out your social media strategy and implement your social media tactics.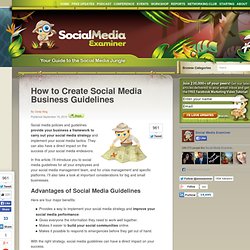 They can also have a direct impact on the success of your social media endeavors. In this article, I'll introduce you to social media guidelines for all your employees and your social media management team, and for crisis management and specific platforms. I'll also take a look at important considerations for big and small businesses.
---