Individual artists
Tim Shumate
Here is my new video for my friends THE SHOES (Producers of my music project as WOODKID). A simple story about the conquest of light, of inner beauty. Produced by Coleen Haynes / David Price @ HSI With the help of Mourad Belkeddar @ Caviar Paris Director of Photography : Frederik Jacobi Assistant Director : Antoine Poulet Post Production : One More Production Commissionner : Pierre Le Ny @ Green United Music Directed by Yoann Lemoine Executive Producer : Coleen Haynes / HSI Producer : Dawn Rose Director of photography : Paul Laufer Art Dept : Charles Infante Editing : Clark Eddy Grading : Dave Hussey Commissioned by Danny Lockwood / EMI Directed by Yoann Lemoine Producer : Beth Montague / HSI Executive Producer FRANCE : Helene Segol / WANDA Director Assistant : Antoine Poulet Director of photography : Mathieu Plainfossé Styling : Rossana Passalacqua / Artlist Paris Set Design : Anna Brun Editing : Nicolas Larrouquere Commissioned by Claire Stubbs for Rough Trade Records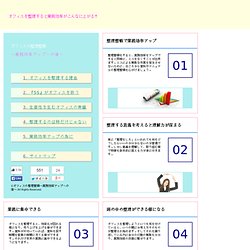 Keith Thompson Art
Vispo ~ Langu(im)age: interactive, visual, and sound poetry by Jim Andrews
beatriz
<the art of david ho>
Eccentric Visions..The Art of Destiny Moshier
WWW.CORO36INK.COM
Hello and welcome to my graphics art ! My name is Markus Vogt, i am a german digital artist who has started creating computer imagery many years ago - first of all with 2D image processing or illustration programs, shortly later i´ve become interested in the incredible possibilities and power of 3D modeling, animation and rendering packages. These are my main focus now. My art has appeared in several graphics related magazines like "3D World", "3dArtist", "Advanced Photoshop" or "Animation Reporter" as well as on various book and CD covers.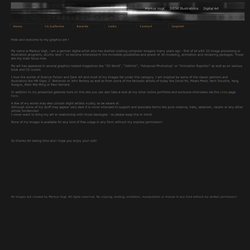 Markus Vogt ::: 2d|3d graphics and digital art
Lara Jade Photography
Page 1
Welcome to my website! here you will find: My artwork, prints for purchase, info on myself, links to other galleries of mine and more. Enjoy your stay! and check back often as I frequently update my gallery!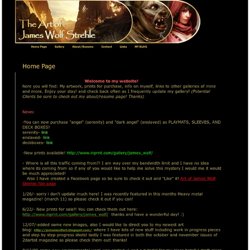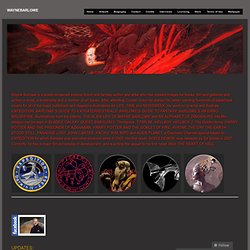 waynebarlowe
Wayne Barlowe is a world-renowned science fiction and fantasy author and artist who has created images for books, film and galleries and written a novel, a screenplay and a number of art books. After attending Cooper Union he started his career painting hundreds of paperback covers for all of the major publishers and magazine illustrations for LIFE, TIME and NEWSWEEK. He went on to write and illustrate EXPEDITION, BARLOWE'S GUIDE TO EXTRATERRESTRIALS, BARLOWE'S GUIDE TO FANTASY, BARLOWE'S INFERNO, BRUSHFIRE: Illuminations from the Inferno, THE ALIEN LIFE OF WAYNE BARLOWE and AN ALPHABET OF DINOSAURS. His film designs can be seen in BLADE2, GALAXY QUEST, BABYLON 5: Thirdspace, TITAN AE, HELLBOY, HELLBOY 2: The Golden Army, HARRY POTTER AND THE PRISONER OF AZKHABAN, HARRY POTTER AND THE GOBLET OF FIRE.
gerrardart.com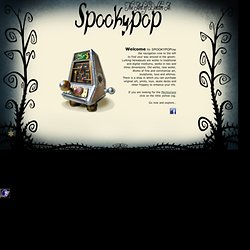 Welcome to SPOOKYPOPUse the navigation vine to the left to find your way around in the gloom. Lurking hereabouts are works in traditional and digital mediums, works in two and three dimensions. Old works, new works. Works of fine and commercial art, sculptures, toys and whimsy. There is a shop in which you can purchase original art, prints, toys, skate decks and other frippery to enhance your life.
S P O O K Y P O P : The art of Doktor A.
hethe_™
Brian Despain Art | Home
Broken Toyland - The Official Site Of Artist, Valery Milovic
I am a 36 years old awarded graphic/multimedia designer with a bachelor degree in fine arts, a bachelor in multimedia techinques and new media. I am self motivated, always wanting to experiment and looking for challenges on every field of visual communication: digital matte painting, vfx, graphic design, experimental illustration, typography, interactive and new media, combining traditional techniques with digital ones in order to obtain something unique, something unexpected and spectacular. With more than 14 years of experience as a designer, I am able to work in a fast pace environment and I am able to push the limits of my creativity under tight deadlines, and, as an Art Director, I am able to efficiently manage and provide unique, creative and sustainable solutions for interactive and branding projects. Currently freelance designer, I'm always open for new projects and challenges, so feel free to contact me.
Bechira Sorin - Multimedia / Graphic Designer & Art Director
ART OF PUREHAY
source: Webesteem Magazine, 2005 Początki tego projektu sięgają przełomu 1999 i 2000 roku, kiedy zacząłem prace nad cyklem fotomontaży realizowanych w ramach zajęć w pracowni malarstwa prof.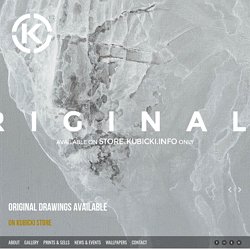 Le Mew Photography | Jennifer Garcia | Fine Art Portraiture and Fashion Photography | Northern CA
Apneatic
www.plastic-hand.com
Mein Name ist Sanan [sin'a:n] Jafan – Grafik- und Webdesigner in Rodgau, bei Offenbach und Frankfurt am Main. Man kennt mich auch unter den Namen plastic-hand. Zentrum meines Schaffens ist alles, was mit Form, Farbe, Ästhetik, professioneller Präsentation und Medien zu tun hat. In der so genannten "schwarzen Szene" arbeite ich im Bereich Gothic, EBM, Electro, oder Industrial oft mit Models oder Bands zusammen.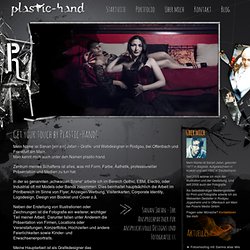 Free CD Cover Album Artwork | CoverHunt
Vitaly S Alexius: Toronto illustrator
Rebeca Saray
Last Rites Gallery
High Voltage Tattoo | Kat Von D's High Voltage Tattoo
Photography By Diable
The Official Website of Serena Star Photography & Modeling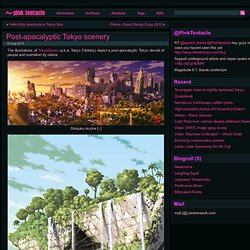 19 Aug 2010 The illustrations of TokyoGenso (a.k.a. Tokyo Fantasy) depict a post-apocalyptic Tokyo devoid of people and overtaken by nature. Shinjuku skyline [+]