Digital Painting Tutorials
MrJonHodgson's Channel
Welcome to YouTube! The location filter shows you popular videos from the selected country or region on lists like Most Viewed and in search results.To change your location filter, please use the links in the footer at the bottom of the page. Click "OK" to accept this setting, or click "Cancel" to set your location filter to "Worldwide". The location filter shows you popular videos from the selected country or region on lists like Most Viewed and in search results. To change your country filter, please use the links in the footer at the bottom of the page.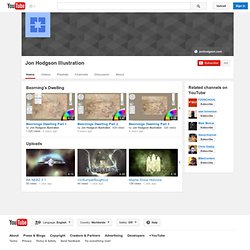 FZD School of Design provides an education in entertainment design. Our courses cover a wide range of topics such as video games, feature films, theme parks, consumer products, toys, television commercials and set designs. FZD focuses heavily on the importance of fundamentals and scientific understandings. Our aim is to mod students into elite designers with a broad range of skills and graduate with top notch portfolio. To find out more about our training outline, please visit our official website linked below. FZD School of Design provides an education in entertainment design.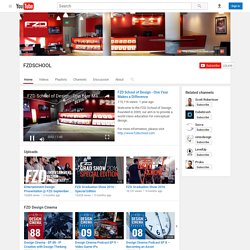 Some exiting news, friends, I will be returning to the city of Angels and will be back freelancing and working on some exciting new projects with fantastic collaborators and working on my own projects. Before I start yapping here's some new art, The Last couple of years have been up and down on a personal note. I lost both my older sister Gema Targete and Dad Gerard Targete. I'm not one who likes to mix my professional life and personal one but honestly sometimes as an artist it can be difficult not to, as our creativity is sometimes wired into our emotions.
Targete's NEWS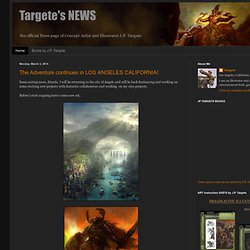 FacesAt this point, I started sketching out the character's face, which was going to be one of the most important aspects of the image. I usually paint confident and provocative expressions, but this time I wanted the girl to be young, subtle and dreamy. At first I pushed the face I initially sketched further, but also sketched an alternative. The one on the left proved to be a bit too modern and concentrated, and so I decided to stick with the original.
Umbrella Sky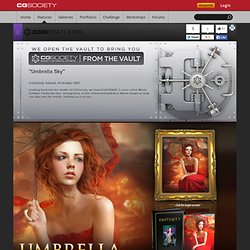 Here is Whistler broken down step by step. 1- Lineart~ I used HB lead on high quality copy paper (it's really white and smooth, the one with the Aa on the cover). Scanned it and tinted it green in photoshop. Why green?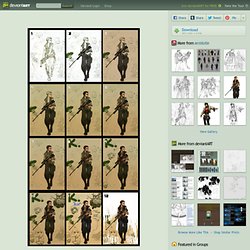 APB Whistler Step by Step by ~arnistotle
Step 1 To start softening the hair you need to have in mind: - How to use the smudge tool properly (this includes changing shape, hardness and strength and adequate them to the piece you're working on); - To delimit parts of the hair that invisibly form a line shape (pieces of the hair); - Smudging pieces at a time, not all at once; If you're not so good with those, it's not a big deal, just keep reading.
Turn a Picture of Your Face into a Glamorous Digital Painting - Photoshop Tutorial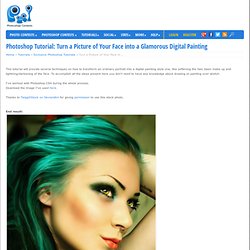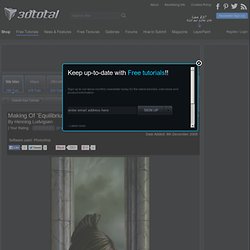 Step 1: Line art I've always been fascinated by realism, and because of this it is really important to me that the base line-art sketch has got proper proportions. I usually use the old trick by putting a grid on top of a reference photo I've shot, and then I copy the same grid onto a blank canvas and start drawing grid by grid from what I see on the reference photo. I make sure to keep the grid on a separate layer so that I easily can remove the grid at a later stage, and also keep the drawing on a separate layer underneath the grid. Step 2: Blocking in, and grey scale shading Once I have the line art version ready, I delete the layer with the grid, and then I make another layer behind the line art drawing which I fill with one grey scale colour using a hard brush.
Tutorials
3D Total - The cg artists home page
*Buy a new .COM, get one new .INFO for FREE for 1st year only. Not valid on renewals or transfers. Plus ICANN fee of 18¢ per domain per year. † Good for one 1-year registration of any available .COM, .US, .BIZ, .INFO, .NET or .ORG **New .COs, first year only. Offer ends 7/31/2012. ‡ Annual discounts available on NEW purchases only. GoDaddy.com is the world's No. 1 ICANN-accredited domain name registrar for .COM, .NET, .ORG, .INFO, .BIZ and .US domain extensions. Source: RegistrarSTATS.com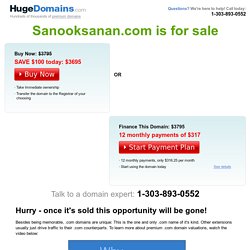 Digital Painting Video Podcast Bobby Chiu | digital audio
Introduction It's very crucial for a creator to foresee the image in his own mind and be able to know if it will make a good artwork, or not. I wanted to create a scene filled with tension and drama, just like a still from the film itself. Designing the Movement Planning the work, I wanted to bring out the tension and conflict as a priority, which led me to an explosive duel scene that would draw audiences into the work.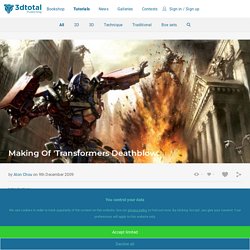 Mozilla Firefox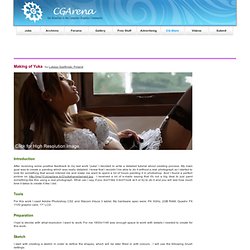 Introduction After receiving some positive feedback to my last work "yuka" I decided to write a detailed tutorial about creating process. My main goal was to create a painting which was really detailed. I knew that I wouldn't be able to do it without a real photograph so I started to look for something that would interest me and make me want to spent a lot of hours painting it in photoshop.
Introduction I've been asked to write a "making of" my last work "Winter blockade". It is always tricky task for me because usually I don't printscreen or record my process, except situations when client ask for that from start like ImagineFX or CGSociety challenges. Even then is not easy because once I get into work it is hard to stop and make printscreen, write a note and go back to work – sometimes it kills all fun I have with painting.From the other hand I understand there is lot of people who may find those guides as very helpfull, hah!
Digital painting is an amazing, beautiful and most popular art. Many of designers want to learn about its tips and techniques. Today, i have a collection of absolutely astounding digital painting tutorials.