Shops
Maker Made Products on Tindie are made and sold by the maker that designed them. From over 30 countries, our makers are experts and can help you utilize their creations. Innovative Gadgets Supporting innovation is at the heart of what we do, and the gadgets we promote.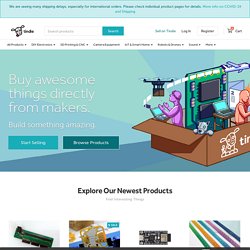 Satistronics Store, China Electronic Components Online Store - Wholesale Development Tools and Components from China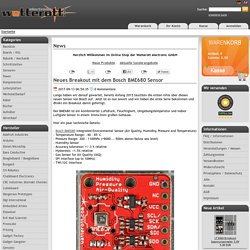 Update:Das LCD ist seit Heute bei uns bestellbar. Wir arbeiten derzeit an einem neuen LCD für den Raspberry Pi, dieses kann direkt aufgesteckt werden und es lässt sich sogar das bekannte Tek-Berry Gehäuse verwenden.Wir werden auch fertig gefräste Gehäuse mit in unser Sortiment aufnehmen. Das Display wird Mitte Januar verfügbar sein. Hier ist schon mal ein Video von unserem Prototypen:
cutedigi.com - Arduino, S3C6410, PyMite, WiFi, Powerline communication, GPRS/GSM modems, TQ2440 - Quadcopter fever has blown through SparkFun. I'm not sure where it started, but suddenly, it seems like everybody is flying around a cheap little quadcopter. The most popular model around here is the Estes Proto-X, a mere snip at $35-45US. It's small size makes it nice for goofing off around the office, but it definitely leaves something to be desired in the hacking arena.