Photoshop & Graphic Design
Website Templates! Download a FREE selection of original website templates. Enter your e-mail address to get access to exclusive free templates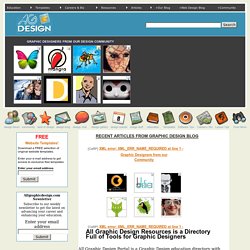 Free Online Font Tools - Mega List of Web Based Font, Text, & Type Tools Graphic Design and Typography are deeply connected. For that reason, I figure that most of you are going to love these free online font and type tools. Most, if not all, of these are very useful and I recommend that you use them when you have a chance.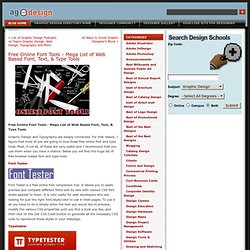 Free Online Font Tools - Mega List of Web Based Font, Text, & Ty
Computer Arts is the magazine for people who believe design matters, and has been inspiring and informing graphic designers and illustrators since 1995. With both a deluxe print edition and a fully-interactive, bespoke iPad edition, Computer Arts brings you behind-the-scenes access to cutting-edge design projects, in-depth analysis and incisive opinions from the design world's thought leaders, plus the very best new work from the global design community. Whether it's a shift in creative thinking or a change to the business of design, you can rely on Computer Arts to bring you detailed analysis of the pivotal events.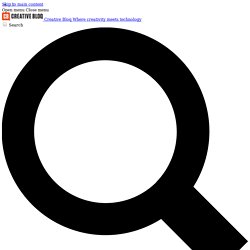 Free Adobe Photoshop, Flash, Dreamweaver, Illustrator, Fireworks
Technical illustration - Kevin Hulsey Illustration, Inc.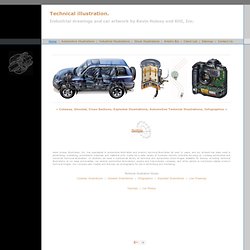 » Cutaway, Ghosted, Cross-Sections, Exploded Illustrations, Automotive Technical Illustrations, Infographics « Kevin Hulsey Illustration, Inc. has specialized in automotive illustration and product technical illustration for over 31 years, and our artwork has been used in advertising, marketing, promotional materials and collateral print media for a wide variety of business sectors, primarily focusing on cutaway automotive and industrial technical illustration. In addition, we have a substantial library of technical and automotive stock-images available for license, including technical illustrations of cut away automobiles, car exterior automotive illustrations, engine and transmission cutaways, and other vehicle or machinery-related product technical images. Our company also creates and licenses car photography for use in advertising and marketing.