Media
China. Anywhere Login. BBC - Homepage. BBC iPlayer - iPlayer TV Home. Radio 2. Radio 3 - Home. Radio 4 - Home - Find and listen to Radio 4 programmes. The New York Times - Breaking News, World News & Multimedia. World business, finance, and political news from the Financial Times. "Very few people understand how important this topic is to our lives and our economy.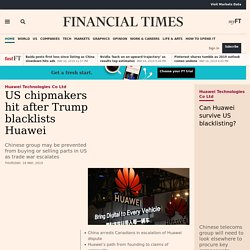 At least this article and related pieces are a start for people to realise how much monetary reform is needed to address the inherent inequality and instability of our current system. "By DPL on Strip private banks of their power to create money. Telegraph.co.uk: news, business, sport, the Daily Telegraph newspaper, Sunday Telegraph. FT Alphaville. The Sun | The Best for News, Sport, Showbiz, Celebrities & TV | The Sun| The Sun. The Times | UK News, World News and Opinion. The Sunday Times. Oxfordshire News, Oxfordshire Sport, What's on, Cars, Jobs, local information from the Oxford.
News | Homepage - The Oxford Times. Welcome to The Citizen. Star. Home - BusinessDay.
---