Advertising
Fucking Creatives
Johnnie Walker has launched a new global 'Keep Walking' integrated campaign fronted by its latest 'From the Future' spot via BBH London. This week marks the launch of major new brand work for Johnnie Walker globally and the evolution of our iconic "Keep Walking" campaign. The integrated campaign kicked off with a social content platform, #NextStep, which sees Johnnie Walker filtering the web to provide a globally curated feed of content; a service designed to inspire our communities and help them move forward on a daily basis. At the centre of the campaign is our new brand film, 'From the Future', written by Nick Gill and directed by Fredrik Bond, which marks a step change in the tone, look and feel of the Johnnie Walker brand, in a bold move to refresh and modernise its communications and make it more relevant to progressively minded drinkers around the world.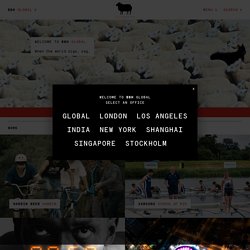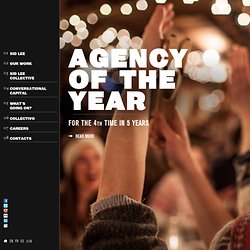 Vice-President, Account Group, Partner With Sid Lee since 2006 and having a passion for digital communications and content. The branded content produced by his team far surpasses the limits of traditional methods of communication. Stephane is in charge of the branded content for the whole Sid lee offices.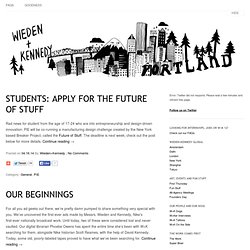 Rad news for student from the age of 17-24 who are into entrepreneurship and design-driven innovation: PIE will be co-running a manufacturing design challenge created by the New York based Breaker Project, called the Future of Stuff. The deadline is next week; check out the post below for more details. Continue reading
Wieden+Kennedy
Why is the company called Anomaly? Anomaly is a response to the widespread recognition in the industry that "the models are all broken" and "the traditional solutions are all becoming less and less effective." From the company's inception, we realized intuitively that, in order to succeed, we needed to create an entity that was, literally, an "Anomaly" – something that deviates from the norm or from expectations.
Anomaly | New York City | London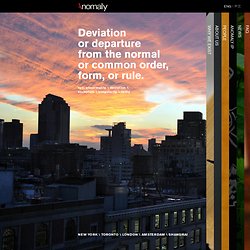 Stella Artois? Sounds fantastic. Pinterest dreams become a reality with Target 1MSQFT- A survey of culture by Windows. 2346 square feet of art and music in New York City during Fashion Week.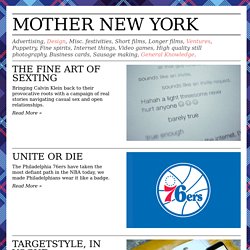 72andSunny
TBWA\Chiat\Day
Featured Video April 18, 2014 (3:01) Mad Men, a One-Legged Soccer Star and an Airplane in Our Wins, Fails and WTFs [Video] (3:01) Win Fail WTF Mad Men, a One-Legged Soccer Star and an Airplane in Our Wins, Fails and WTFs [Video] http://www.adweek.com/video/press/mad-men-one-legged-soccer-star-and-airplane-our-wins-fails-and-wtfs-video-157104April 18, 2014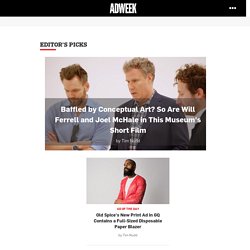 Bicoastal Arcade Edit has strengthened its roster with the addition of editors Jen Dean and Mark Paiva. Dean joins Arcade Edit from Whitehouse Post, where since 2011 she has honed her skills for brands including Google, New York Times, Cotton, BMW, TJ Maxx and Sprint. She began her commercial editing career under Hank Corwin (Natural Born Killers, Tree of Life) at Lost Planet, where spent almost 12 years. Dean discovered her love of film while studying under legendary experimental filmmaker Stan Brakhage at the University of Colorado. Paiva joins Arcade Edit with over 10 years of experience. Last year alone he worked with agencies including 180 Amsterdam, Droga5, The Corner and Wieden+Kennedy.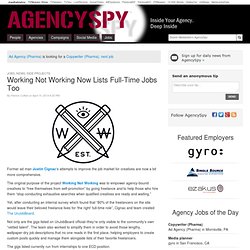 I'm positively floored by the fun series of Web videos by Butler, Shine, Stern & Partners and Tool of North America introducing the BMW Mini Cooper Hardtop. Client and agency asked real Mini owners to think up creative "test drives" to showcase the vehicles. After receiving 800 submissions, they produced 10 videos. The work strikes a happy balance between user-generated content and traditional advertising, with the owners' ideas sparking consistently entertaining, engaging and, in some cases, surprising results.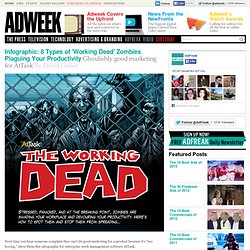 The Volkswagen Beetle. Juiced Up.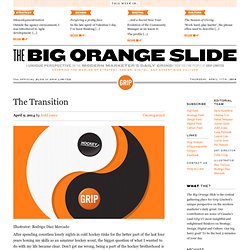 A joint submission by Ben Soja & Coby Savage Only a few weeks into the New Year and there's already a strange scent coming from the deodorant aisle at your local drugstore. That scent seems to be coming from both Procter & Gamble's Old Spice and Unilever's Axe, who have reignited their rivalry within the consistently growing male deodorant market. The two industry giants have been in a battle over market share for the better part of a decade and both companies have used their wealth of financial resources to launch comprehensive marketing campaigns in 2014. Historically, Old Spice and Axe have invested heavily in their marketing departments, resulting in ads that are strong, powerful, humorous and sometimes even controversial.
Often, moms are on tight budgets when it comes to shopping for their families. Living frugally and finding the best deals are important, especially in tough economic times Luckily, there is rarely a need to pay fall price for anything these days. Whether you're shopping for groceries, clothing, or personal items, you can find coupons for all of your family's necessities in traditional brick-and-mortar stores as well as online. Some people are reluctant to clip grocery coupons thinking that it's a waste of time and that the potential savings are small, not realizing that many stores double or even triple manufacturers' coupons, and that they frequently run in-store promotions in conjunction with the paper coupons. Clipping coupons really does save you money if you take the time to learn howto get the best deals.
Stealourideas.com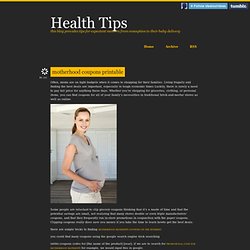 I was born in the year 1954 when stamps were three cents. If you thought, "Wow, three cents??" you're a digital immigrant like me. You're a digital native if you thought, "What are stamps?" Unfortunately, there is a third group: digital rejectors — you've met them. The eye-rollers; the shoulder-shruggers; the print and TV addicts who need to go to some sort of media rehab.
HEY WHIPPLE » Blog Archive » Report From SXSW Interactive: "I See Dead Ad Jobs."
Points - The most advanced directional sign on Earth. We started BREAKFAST with the intention of creating entirely new products that harness the power of the web, and in turn, change how people interact with it in the real world. Points is the culmination of that idea. Points looks as one may expect a directional sign to look... three arms pointing in different directions, each displaying text of a nearby destination. It's when the arms begin to rotate around towards new directions and the text begins to update that you realize you're looking at something much more cutting-edge.
firstborn
Walrus
Work - Xbox 360
Interactive Advertising, Marketing & Full Service Digital Agency - LBi US
Pre-Facebook, we created a million-strong community around healthy living. Pre-Facebook, we created a million-strong community around healthy living. Objective Build a thriving community at Kashi.com around natural living, driving awareness and loyalty for the brand. Target
SKINNY NYC
Member of the press? Hit us up, we're always happy to chat. Drop a line to the PR dude, or ask for John Hickman at 619-234-0408. VITRO principals are also available for speaking opportunities, expert commentary or industry analysis on: sponsorship activation, digital media, social media best practices, industry trends, creative craft, and martial arts. Apparently, this social media thing isn't a fad after all.