Mind
Bipolar disorder or bipolar affective disorder (historically known as manic–depressive disorder or manic depression ) is a psychiatric diagnosis for a mood disorder . Individuals with bipolar disorder experience episodes of a frenzied state known as mania (or hypomania ), typically alternating with episodes of depression . At the lower levels of mania, such as hypomania, individuals appear energetic and excitable and may in fact be highly productive.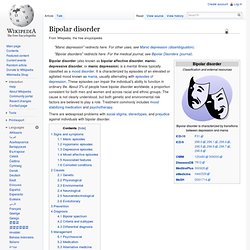 Bipolar disorder
Attention deficit-hyperactivity disorder ( ADHD ) is a mental disorder [ 1 ] and neurobehavioral disorder [ 2 ] characterized by either significant difficulties of inattention or hyperactivity and impulsiveness or a combination of the two. According to the Diagnostic and Statistical Manual of Mental Disorders (DSM-IV-TR), symptoms emerge before seven years of age. [ 3 ] There are three subtypes of the disorder which consist of it being predominantly inattentive (ADHD-PI or ADHD-I), predominantely hyperactive-impulsive (ADHD-HI or ADHD-H), or the two combined (ADHD-C). Oftentimes people refer to ADHD-PI as "attention deficit disorder" (ADD), however, the latter has not been officially accepted since the 1994 revision of the DSM. ADHD impacts school-aged children and results in restlessness, acting impulsively, and lack of focus which impairs their ability to learn properly.
Attention deficit hyperactivity disorder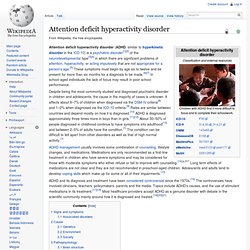 Concentrating upon a task is one aspect of flow. Flow is the mental state of operation in which a person performing an activity is fully immersed in a feeling of energized focus, full involvement, and enjoyment in the process of the activity. In essence, flow is characterized by complete absorption in what one does. Proposed by Mihály Csíkszentmihályi , the positive psychology concept has been widely referenced across a variety of fields. [ 1 ] According to Csikszentmihalyi, flow is completely focused motivation .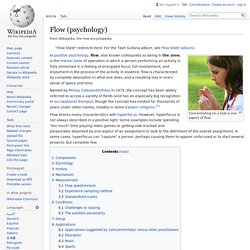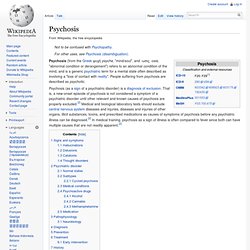 Psychosis
Psychosis (from the Greek ψυχή "psyche", for mind/soul, and -ωσις "-osis", for abnormal condition or derangement) refers to an abnormal condition of the mind, and is a generic psychiatric term for a mental state often described as involving a "loss of contact with reality ". People suffering from psychosis are described as psychotic. Psychosis is given to the more severe forms of psychiatric disorder, during which hallucinations and delusions and impaired insight may occur. [ 2 ] The term "psychosis" is very broad and can mean anything from relatively normal aberrant experiences through to the complex and catatonic expressions of schizophrenia and bipolar type 1 disorder . [ 3 ] [ 4 ] [ 5 ] Moreover a wide variety of central nervous system diseases, from both external substances and internal physiologic illness, can produce symptoms of psychosis. This led many professionals to say that psychosis is not specific enough as a diagnostic term.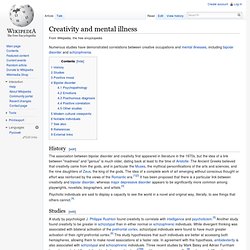 Numerous studies have demonstrated correlations between creative occupations and mental illnesses, including bipolar disorder and schizophrenia . [ edit ] History The association between bipolar disorder and creativity first appeared in literature in the 1970s, but the idea of a link between "madness" and "genius" is much older, dating back at least to the time of Aristotle . The Ancient Greeks believed that creativity came from the gods, and in particular the Muses , the goddesses of arts and sciences, and the nine daughters of Zeus , the king of the gods. The idea of a complete work of art emerging without conscious thought or effort was reinforced by the views of the Romantic era. [ 1 ] [ 2 ] It has been proposed that there is a particular link between creativity and bipolar disorder , whereas major depressive disorder appears to be significantly more common among playwrights, novelists, biographers, and artists. [ 3 ]
Creativity and mental illness
See Western esotericism for modern "mystery religions" in the Western cultural sphere. Mystery religions , sacred mysteries or simply mysteries , were religious cults of the Greco-Roman world for which participation was reserved to initiates . [ 1 ] The main characterization of this religion is the secrecy associated with the particulars of the initiation and the cult practice, which may not be revealed to outsiders. The most famous mysteries of Greco-Roman antiquity were the Eleusinian Mysteries , which were of considerable antiquity and predated the Greek Dark Ages . The popularity of mystery cults flourished on Late Antiquity ; Julian the Apostate in the mid 4th century is known to have been initiated into three distinct mystery cults. Notable among these late cults was the Mithraic Mysteries .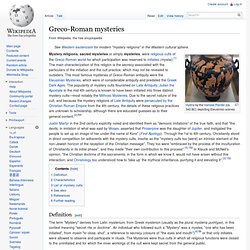 10 Ways to Become More Conscious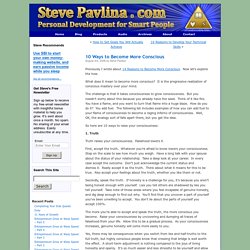 Previously I wrote about 14 Reasons to Become More Conscious . Now let's explore the how. What does it mean to become more conscious? It is the progressive realization of conscious mastery over your mind. The challenge is that it takes consciousness to grow consciousness.
History of hypnosis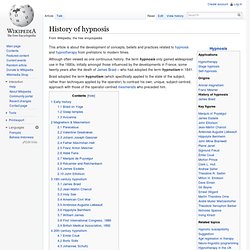 This article is about the development of concepts, beliefs and practices related to hypnosis and hypnotherapy from prehistoric to modern times. Although often viewed as one continuous history, the term hypnosis only gained widespread use in the 1880s, initially amongst those influenced by the developments in France, some twenty years after the death of James Braid – who had adopted the term hypnotism in 1841. Braid adopted the term hypnotism (which specifically applied to the state of the subject, rather than techniques applied by the operator) to contrast his own, unique, subject-centred, approach with those of the operator-centred mesmerists who preceded him.