Other
SugarSync. SugarSync Review. ZumoDrive - Enjoy your media and documents from every device. Audiogalaxy - Your Music + Internet Radio. Audiogalaxy Vs Subsonic - Fight! What's Your Favorite Android Music Streaming App? [Reviews, Poll] In our last week's poll, we asked you your thoughts on the best overall Android music player, and over 1500 of you responded, clearly putting PowerAMP ahead of the competition, followed by Winamp.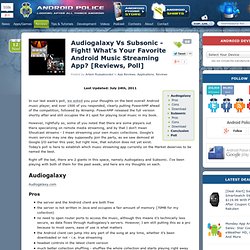 PowerAMP released the full version shortly after and still occupies the #1 spot for playing local music in my book. However, rightfully so, some of you noted that there are some players out there specializing on remote media streaming, and by that I don't mean Shoutcast streams - I mean streaming your own music collections. Subsonic. Subsonic is a free, web-based media streamer, providing ubiquitous access to your music.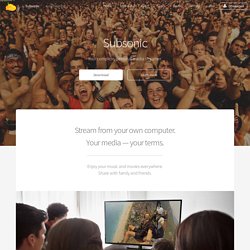 Use it to share your music with friends, or to listen to your own music while at work. You can stream to multiple players simultaneously, for instance to one player in your kitchen and another in your living room. Subsonic is designed to handle very large music collections (hundreds of gigabytes). Although optimized for MP3 streaming, it works for any audio or video format that can stream over HTTP, for instance AAC and OGG. By using transcoder plug-ins, Subsonic supports on-the-fly conversion and streaming of virtually any audio format, including WMA, FLAC, APE, Musepack, WavPack and Shorten. Songza - Listen to Music Curated by Music Experts. Songza Review & Rating. Last.FM.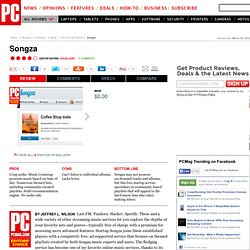 Pandora. Slacker. Spotify. Songza Streaming Music App Review. May 7, 2012 The Good Large selection of well-curated playlists Pandora-style music discovery and streaming Unlimited streaming No audio ads The Bad Can't pick your own song Buffering problems Limited number of song skips (and some errors) Can't create playlists in the app.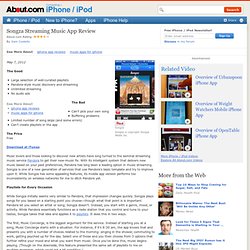 Songza App Review: Pandora And Spotify Better Watch Their Backs. Sure, there are plenty of music streaming services out there, and even ones with amazing shareable playlists, but Songza differentiates by falling right into that sweet spot between Spotify and Pandora.
The app's most interesting feature, Concierge, sets up playlists based on day and time, with filters for whatever mood you might be in. For example, on Wednesday morning, Concierge says that I'm most likely to want to listen to something for Work Or Study, Still Waking Up, or Working Out. If I change the settings to give me music for Late Friday Night, options change to Getting High, Getting Lucky, Nightcap, A Sweaty Dance Party, or Bedtime. Songza soars in challenging online music field | Smartphone News & Reviews. Songza knocked Pandora off its throne as the most download free music app on iTunes.
Picture: Songza Source: Supplied SONGZA, a new online radio service, leapfrogged Pandora as the most popular free music app for Apple devices last week. But it immediately faces a struggle to survive in a business saddled with high royalty rates for artists. The New York-based startup aims to re-write the songbook on how an online radio service ought to run. Songza app streams tunes that suit your mood | iPhone Atlas. Five o'clock.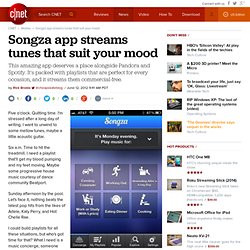 Quitting time. I'm stressed after a long day of writing. I want to unwind to some mellow tunes, maybe a little acoustic guitar. Six a.m. Time to hit the treadmill. Songza Review. Posted 06/28/2012 at 5:02am | by Susie Ochs Back in the day, it was easier to decide what to listen to: whatever you had with you.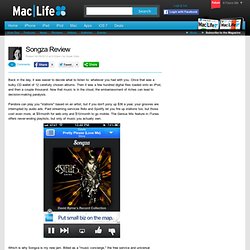 Once that was a bulky CD wallet of 12 carefully chosen albums. Songbird. Turntable - play music together. Turntable Review & Rating. Have you ever wanted to DJ a party, but lacked the skills to master the wheels of steel?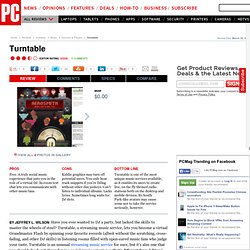 Turntable, a streaming music service, lets you become a virtual Grandmaster Flash by spinning your favorite records (albeit without the scratching, cross-fading, and other DJ skills) in listening rooms filled with open-eared music fans who judge your taste. Turntable is an unusual streaming music service for sure, but it's also one that you should check out if you fancy a social music experience that's different from Editors' Choice award winners Songza (Free, 4 stars) and Spotify (Free, 4.5 stars). Diggin' Through the CratesTurntable features themed listening rooms (think "80s Rock"), which are locations in which other users create the soundtrack that provides the backdrop to your work day, commute, or chillax time.
You can passively partake of the audio or become a DJ yourself, which is where the fun lies. Hulkshare - Listen to Free Songs & Music Online.
---