Web
Get flash to fully experience Pearltrees
Think you're good at riddles and brain teasers? What about the world's hardest brain teaser? If you're looking for a little mental stimulation as you eagerly await the coming new year, you're in luck. The folks over at New Scientist have published what they're calling 'the most difficult logic problem.'
Who enjoys the fastest internet? South Koreans do, according to Ookla- the average South Korean Internet connection is more than 3x faster than the average connection in the US. Eastern European countries like Latvia and Lithuania are also at the top of the pool.
Through rigorous torture testing , we've learned that not all phones are equipped to stand up against trials of everyday life. OK, so, the Nokia Lumia 900 can take a hammering ( literally ), but even Gorilla Glass-donning phones are prone to unsavory hairline scratches. For many people, these scratches are a-OK, but if you plan to sell or trade in your phone in the future, keeping it in tip-top shape is key to getting a good deal. But screen protectors serve purposes beyond scratch-control -- some act as privacy screens, while other attempt to reduce glare. From buying to applying, follow this guide to getting the most out of your screen protector. Buying the right screen protector
(Credit: Ed Rhee/CNET) Many smart or connected devices come with wired-only connections (Ethernet), like your TV , game console, DVD player, TiVo , or other streaming-media device. Unless your Internet modem or wireless router happens to be at the same location as those devices, connecting them to your wireless network can be a challenge. Possible solutions include, power-line adapters , dedicated wireless adapters for each device, or installing Ethernet jacks. Unfortunately, those options can get expensive and each has its unique drawbacks.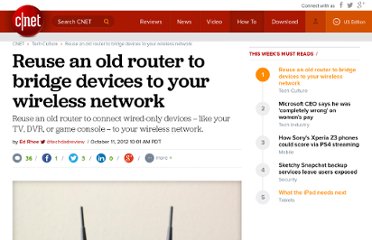 Capture anything on your screen with the ultimate screen capture tool. With Snagit 11, you can record screen videos, enhance your images, work efficiently, and share to even more destinations. Still using Snagit 10? Upgrade to Snagit 11 today!