Quantified self
Vous Emmanuel Gadenne from Limeil Brévannes ? Le 2.0 s'étoffe avec le "quantified self" (QS) Quantified Self from Jean Michel Billaut on Vimeo.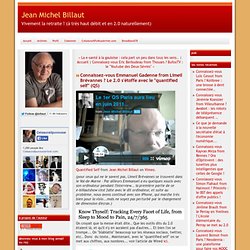 (pour ceux qui ne le savent pas, Limeil Brévannes se trouvent dans le Val-de-Marne - Par ailleurs Emmanuel a eu quelques soucis avec son ordinateur pendant l'interview... la première partie de ce e-billautshow s'est faite avec le dit ordinateur, et suite au problème, nous avons continué avec son iPhone, qui marche très bien pour la visio...mais ne soyez pas perturbé par le changement de dimension d'écran.) On croyait que la messe était dite.. Que les outils dits du 2.0 étaient là, et qu'il n'y en auraient pas d'autres... Et bien l'on se trompe... Moodscope - Lift your mood with a little help from your friends. Mappiness, the happiness mapping app. Quantter.
Running app and fitness community. Le 1er QS Paris aura lieu en juin 2011... QuantifiedSelf Paris. Quantified Self | Self Knowledge Through Numbers. Withings - Withings - La balance connectée (poids, IMC, masse gr. Withings. Emoome. The Secret Lives of Words & Brains. Plein Ecran du 21/04/2012.
OptimizeMe - Lifelogging and Quantified Self Tracking Improvement App. Moves - Activity Diary for iPhone and Android. Sleep. Zeo Sleep Management.
---