Phone Dev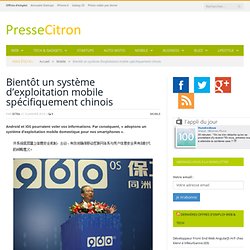 La Chine lance son propre OS mobile
Vendredi 10 janvier
Best practices (Phone dev)
Apple versus Android, du point de vue développeur ! « FrAndroid Communauté Android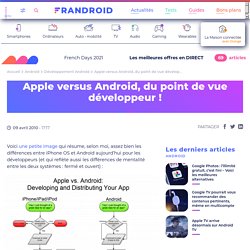 Voici une petite image qui résume, selon moi, assez bien les différences entre iPhone OS et Android aujourd'hui pour les développeurs (et qui reflète aussi les différences de mentalité entre les deux systèmes : fermé et ouvert) : L'auteur a toutefois oublié que pour publier sur l'Android Market il en coutait 25 dollars.
xSt3X.png (1220×1055)
Mobile Phone Cross Dev (Empty and deprecated old pearl)
Multiple Views in One Nib (addSubview)
Tutorial: Analysing XCode's "Utility Application" iPhone-templat
In the last two posts we analysed XCode's "Window-Based Application" template, with an emphasis on understanding how to use Interface Builder (IB) during iPhone application development. That template is a good starting point, since it's very simply but yet makes rather good use of IB. Now, we'll move onto something more exciting by analysing XCode's "Utility Application" template, so start up XCode, choose "File/New Project" from the menu and select the Utility Application project and name it Util1. This is a quite interesting project, since it has multiple classes, multiple xib-files and even some user interaction via a GUI button.