Phone Dev
La Chine lance son propre OS mobile. Android et iOS pourraient voler vos informations.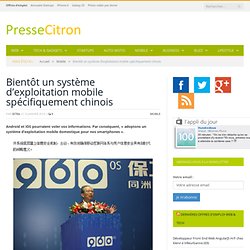 Par conséquent, « adoptons un système d'exploitation mobile domestique pour nos smartphones ». C'est ce qui semble être la philosophie qui est derrière ce projet Made in China. Jeudi, le système d'exploitation baptisé 960 OS a été révélé au grand public.
Best practices (Phone dev) HP webOS Dev. Windows Phone Dev. Google Android Dev. Google Android. Apple versus Android, du point de vue développeur ! « FrAndroid Communauté Android. Malgon • le 09 avril 2010 à 17:17 09 avril 2010 Tous ses articles Lycéen Bordelais, passionné d'informatique depuis le plus jeune âge.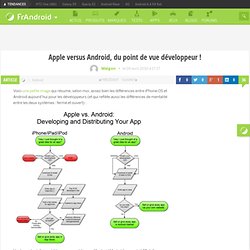 Admin système, développeur en tout genre (Android, Web, Desktop...) se dirige vers le métier d'ingénieur informatique. Rédacteur et modérateur sur FrAndroid, n'hésitez pas à me rendre visite sur mon Twitter ou sur mon portfolio ;) xSt3X.png (1220×1055)
Mobile Phone Cross Dev. Mobile Phone Cross Dev (Empty and deprecated old pearl) J2ME avec le profil MIDP. Settings. Multiple Views in One Nib (addSubview) Tutorial: Analysing XCode's "Utility Application" iPhone-templat. In the last two posts we analysed XCode's "Window-Based Application" template, with an emphasis on understanding how to use Interface Builder (IB) during iPhone application development.
That template is a good starting point, since it's very simply but yet makes rather good use of IB. Now, we'll move onto something more exciting by analysing XCode's "Utility Application" template, so start up XCode, choose "File/New Project" from the menu and select the Utility Application project and name it Util1. This is a quite interesting project, since it has multiple classes, multiple xib-files and even some user interaction via a GUI button.
---