Language
Cross language Library (Lib) Trends & Stats (Language) Learn (Languague Dev.) Ide. Script. Lua. Formal Languague. Python. Ruby. Language comparator. Dynamic Languages. Google stuff language dev. C. Makefile. Libraries. C++. C/C++ compilation for AMS.JS.
Objective-c. Swift. C#. WebProg - Le site de la programmation expliquee en francais. Java. Cours Ada 95. Cette formation s'adresse aux développeurs qui connaissent déjà Ada 83 et souhaitent se former aux nouvelles possibilités apportées par Ada 95.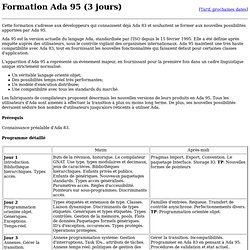 Ada 95 est la version actuelle du langage Ada, standardisée par l'ISO depuis le 15 février 1995. Elle a été définie après enquête auprès des utilisateurs, sous le contrôle vigilant des organismes internationaux. Ada 95 maintient une très haute compatibilité avec Ada 83, tout en fournissant les nouvelles fonctionnalités qui faisaient défaut pour certaines classes d'application. L'apparition d'Ada 95 a représenté un évènement majeur, en fournissant pour la première fois dans un cadre linguistique unique strictement normalisé:
Script. The iMacros internet Browsers. From iMacros Examples for using iMacros efficiently.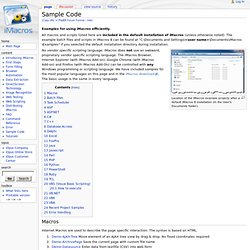 All macros and scripts listed here are included in the default installation of iMacros (unless otherwise noted). The example batch files and scripts in iMacros 8 can be found at "C:\Documents and Settings\<user name>\Documents\iMacros\Examples" if you selected the default installation directory during installation. Location of the iMacros example projects after a default iMacros 8 installation (in the User's Documents folder).
Lua
---