Investment
Untitled from Jean Michel Billaut on Vimeo. Excellente conversation avec Thierry (de Toulouse...)... Pour lui, les temps sont venus : la foule (les "petites gens") se réapproprient les modèles économiques... Que nos élites y fassent attention ! Thierry par exemple est copropriétaire avec 53.999 autres petites gens en Europe d'un club de football de 3ème division en Angleterre... Il a co-produit par ailleurs, avec 346 autres petites gens, le chanteur Grégoire (qui a vendu en 2009 760.000 CD - nos petites gens disposant de 30% des revenus).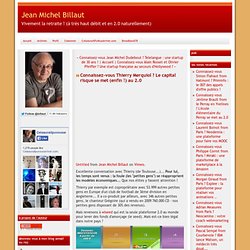 vous Thierry Merquiol ? Le capit
grâce au startup-club breton... on Vimeo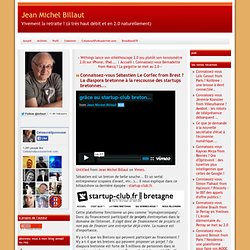 Untitled from Jean Michel Billaut on Vimeo. Sébastien est un breton de belle souche... Et un serial entrepreneur (copains d'avant, etc..)... Il nous explique dans ce billautshow sa dernière épopée : startup-club.fr. Cette plateforme fonctionne un peu comme "mymajorcompany".
vous Sébastien Le Corfec from Brest ? La diaspora bretonne à la rescousse des startups bretonnes
In 2005, Y Combinator developed a new model of startup funding. Twice a year we invest a small amount of money ($14-20k + an $80k note) in a large number of startups (most recently 68). The startups move to Silicon Valley for 3 months, during which we work intensively with them to get the company into the best possible shape and refine their pitch to investors. Each cycle culminates in Demo Day, when the startups present their business plans to a carefully selected, invite-only audience.
The American Jobs Act — President Barack Obama's Jobs Plan
Pour contacter Thierry Merquiol : t.merquiol@wiseed.eu Wiseed est la premiere plateforme au monde de crowfunding en"mode equity", avec financement par les internautes, et vote des internautes. Ce sont en effet les internautes qui décident - en partie- si le business plan de la startup qui cherche de l'argent sur wiseed tient la route... Wiseed, startup française, est déjà passée sur le e-billautshow il y a 2 ans...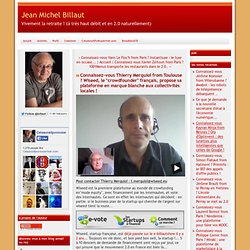 vous Thierry Merquiol from Toulouse ? Wiseed, le "crowdfounder" français, propose sa plateforme en marque blanche aux collectivités locales !