Geolocation
Suite au comparatif des applications GPS, beaucoup ne comprenaient pas l'absence de Google Maps dans le comparatif.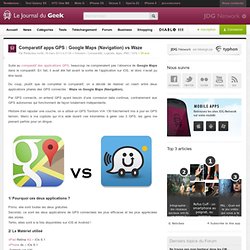 Comparatif apps GPS : Google Maps (Navigation) vs Waze
Le géomarquage des photos est une fonctionnalité sympathique, mais laborieuse si vous devez manuellement marquer le lieu géographique de chaque cliché de votre bibliothèque d'images. C'est pourquoi la carte Eye-Fi Geo se propose de géomarquer automatiquement toutes les photos que vous prenez. L'Eye-Fi Geo est une carte SD avec GPS et Wi-Fi qui se loge dans n'importe quel slot SD.
L'Eye-Fi Geo apporte le GPS dans iLife - Gizmodo -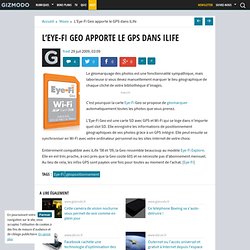 Geolocation software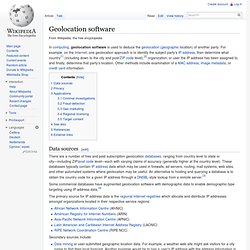 In computing, geolocation software is used to deduce the geolocation (geographic location) of another party. For example, on the Internet, one geolocation approach is to identify the subject party's IP address, then determine what country[1] (including down to the city and post/ZIP code level),[2] organization, or user the IP address has been assigned to, and finally, determine that party's location. Other methods include examination of a MAC address, image metadata, or credit card information. Data sources[edit] There are a number of free and paid subscription geolocation databases, ranging from country level to state or city—including ZIP/post code level—each with varying claims of accuracy (generally higher at the country level). These databases typically contain IP address data which may be used in firewalls, ad servers, routing, mail systems, web sites, and other automated systems where geolocation may be useful.
GPS Visualizer profile input form
Geographic Search and Referencing Solutions - MetaCarta - At the
Voici le Pull-Navi system, qui nous vient directement de l'université d'Electro-communication de Tokyo.
Le GPS des durs d'oreille - Gizmodo -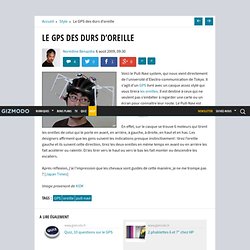 Un GPS pour votre toutou
Etudier la liste des réseaux auxquels se connecte une personne dans une journée permet de déduire son emploi du temps. Et aux applications de se connecter au réseau le plus adapté.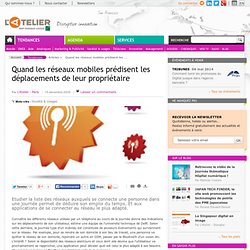 Quand les réseaux mobiles prédisent les déplacements de leur pro
FriendsPin
La géolocalisation mobile suscite l'intérêt des marketeurs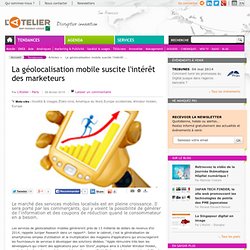 Le marché des services mobiles localisés est en pleine croissance. Il sera porté par les commerçants, qui y voient la possibilité de générer de l'information et des coupons de réduction quand le consommateur en a besoin.
Partagez votre position via l'iPhone, gratuitement et simplement
C'est la promesse de l'application iPhone nommée "I am here", qui est gratuite à l'occasion de son lancement, avant de passer payante ensuite. Ainsi, cette appli permet de partager votre géolocalisation, en l'envoyant à vos amis (choisis !). Vous pouvez l'envoyer via l'application aux autres possesseurs, mais également à votre tribu via Facebook ou Twitter, par exemple pour les inviter à vous rejoindre à une soirée.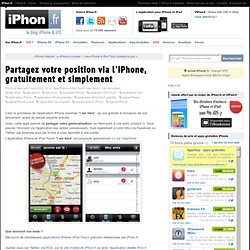 Bonjour et bienvenue ! Si vous aimez cet article, n'hésitez pas à vous abonner au site via son flux RSS suivre Korben.info.
Visite à l'intérieur de la Google Car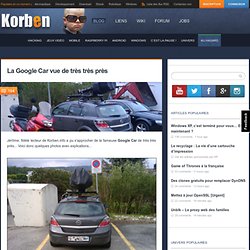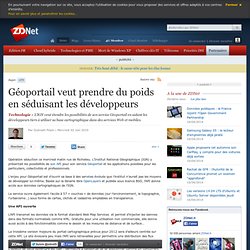 Géoportail veut prendre du poids en séduisant les développeurs
Opération séduction ce mercredi matin rue de Richelieu. L'Institut National Géographique (IGN) y présentait les possibilités de son API pour son service Géoportail et les applications possibles pour les particuliers, collectivités et professionnels. L'enjeu pour Géoportail est d'ouvrir sa base à des services évolués que l'institut n'aurait pas les moyens de développer lui-même. Basée sur la librairie libre OpenLayers et publiée sous licence BSD, l'API donne accès aux données cartographiques de l'IGN. Le service ouvre également l'accès à 57 « couches » de données (sur l'environnement, la topographie, l'urbanisme…) sous forme de cartes, clichés et cadastres empilables en transparence. Une API ouverte
By Maarten on May 19th 2010 Zeitgeist is an event organized by Google for executives and CEO's of major companies. It inspires, provides insights and shows what's coming.
presented at Google's Zeitgeist and got advice from Tim Berners-
VoiceYourView
Street Slide: Browsing Street Level Imagery
BlockChalk