Cognitive behavioral therapy
Cognitive behavioral therapy (CBT) is a psychotherapeutic approach that addresses dysfunctional emotions, maladaptive behaviors and cognitive processes and contents through a number of goal-oriented, explicit systematic procedures. The name refers to behavior therapy, cognitive therapy, and to therapy based upon a combination of basic behavioral and cognitive principles and research. Most therapists working with patients dealing with anxiety and depression use a blend of cognitive and behavioral therapy. This technique acknowledges that there may be behaviors that cannot be controlled through rational thought. CBT is "problem focused" (undertaken for specific problems) and "action oriented" (therapist tries to assist the client in selecting specific strategies to help address those problems).[1] CBT is thought to be effective for the treatment of a variety of conditions, including mood, anxiety, personality, eating, substance abuse, tic, and psychotic disorders.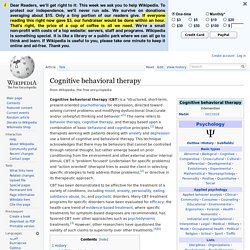 Un article de Wikipédia, l'encyclopédie libre. Dans l'histoire de la psychologie clinique, les courants dits comportementalistes (visant d'abord à intervenir sur le comportement) et cognitifs (cherchant à intervenir sur les croyances, les représentations, et leurs processus de construction) sont apparus parallèlement au milieu du XXe siècle, parfois en compétition l'un avec l'autre. Depuis les années 1980, ce clivage historique entre comportementalisme et cognitivisme tend à disparaître dans la pratique thérapeutique[2]. Histoire[modifier | modifier le code]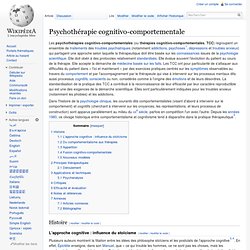 La thérapie comportementale - Psychologie
Les thérapies comportementales et cognitives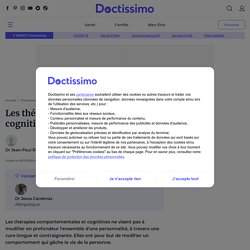 Les thérapies comportementales et cognitives ne visent pas à modifier en profondeur l'ensemble d'une personnalité, à travers une cure longue et contraignante. Elles ont pour but de modifier un comportement qui gâche la vie de la personne. Ces thérapies visent les comportements dont nous voudrions bien nous débarrasser mais qui se répètent malgré nous, échappant à notre volonté, ainsi qu'à toute démarche logique.