Cognitive behavioral therapy
Cognitive behavioral therapy (CBT) is a psychotherapeutic approach that addresses dysfunctional emotions, maladaptive behaviors and cognitive processes and contents through a number of goal-oriented, explicit systematic procedures. The name refers to behavior therapy, cognitive therapy, and to therapy based upon a combination of basic behavioral and cognitive principles and research.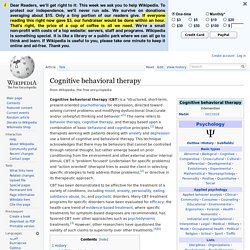 Un article de Wikipédia, l'encyclopédie libre.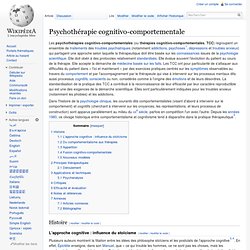 La thérapie comportementale - Psychologie
Les thérapies comportementales et cognitives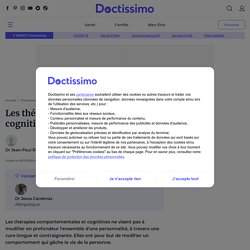 Les thérapies comportementales et cognitives ne visent pas à modifier en profondeur l'ensemble d'une personnalité, à travers une cure longue et contraignante. Elles ont pour but de modifier un comportement qui gâche la vie de la personne. Ces thérapies visent les comportements dont nous voudrions bien nous débarrasser mais qui se répètent malgré nous, échappant à notre volonté, ainsi qu'à toute démarche logique.