Cognitive behavioral therapy
Cognitive behavioral therapy. CBT is thought to be effective for the treatment of a variety of conditions, including mood, anxiety, personality, eating, substance abuse, tic, and psychotic disorders.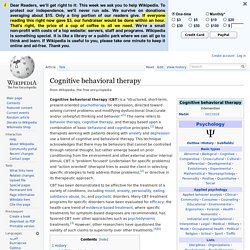 Many CBT treatment programs for specific disorders have been evaluated for efficacy; the health-care trend of evidence-based treatment, where specific treatments for symptom-based diagnoses are recommended, has favored CBT over other approaches such as psychodynamic treatments.[2] CBT was primarily developed through an integration of behavior therapy (the term "behavior modification" appears to have been first used by Edward Thorndike) with cognitive psychology research, first by Donald Meichenbaum and several other authors with the label of cognitive behavior modification in the late 1970s.
This tradition thereafter merged with earlier work of a few clinicians, labeled as Cognitive Therapy (CT), developed by Aaron Beck, and Rational Emotive Therapy (RET) developed by Albert Ellis. Psychothérapie cognitivo-comportementale. Un article de Wikipédia, l'encyclopédie libre.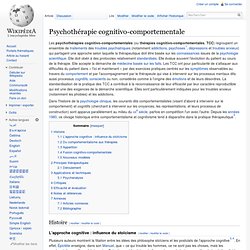 Dans l'histoire de la psychologie clinique, les courants dits comportementalistes (visant d'abord à intervenir sur le comportement) et cognitifs (cherchant à intervenir sur les croyances, les représentations, et leurs processus de construction) sont apparus parallèlement au milieu du XXe siècle, parfois en compétition l'un avec l'autre. Depuis les années 1980, ce clivage historique entre comportementalisme et cognitivisme tend à disparaître dans la pratique thérapeutique[2].
Histoire[modifier | modifier le code] La thérapie comportementale - Psychologie. Les thérapies comportementales et cognitives. Les thérapies comportementales et cognitives ne visent pas à modifier en profondeur l'ensemble d'une personnalité, à travers une cure longue et contraignante.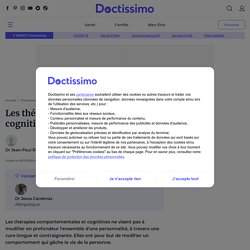 Elles ont pour but de modifier un comportement qui gâche la vie de la personne. Ces thérapies visent les comportements dont nous voudrions bien nous débarrasser mais qui se répètent malgré nous, échappant à notre volonté, ainsi qu'à toute démarche logique.
---