Business organization New / other way
Un article de Wikipédia, l'encyclopédie libre. La coopérative est une entité économique fondée sur le principe de la coopération . Elle a pour objectif de servir au mieux les intérêts économiques de ses participants (sociétaires ou adhérents). Elle se distingue en cela de l' association à but non lucratif dont le but est moins lié aux activités économiques et de la société commerciale qui établit une distinction entre ses associés et ses clients ou usagers . Elle se distingue également de la mutuelle de par son statut juridique. Elle s'inscrit dans l' économie solidaire et peut s'inscrire dans une dynamique de transition écologique et sociale [ 1 ] [ 2 ] .
Coopérative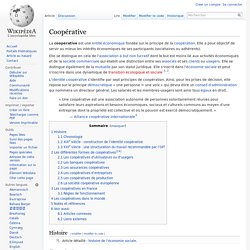 A cooperative ("coop"), co-operative ("co-op"), or coöperative ("coöp") is an autonomous association of persons who voluntarily cooperate for their mutual, social, economic, and cultural benefit. [ 1 ] Cooperatives include non-profit community organizations and businesses that are owned and managed by the people who use its services (a consumer cooperative) or by the people who work there (a worker cooperative) or by the people who live there (a housing cooperative), hybrids such as worker cooperatives that are also consumer cooperatives or credit unions, multi-stakeholder cooperatives such as those that bring together civil society and local actors to deliver community needs, and second and third tier cooperatives whose members are other cooperatives. In the United States, the National Cooperative Business Association (NCBA) serves as the sector's national membership association.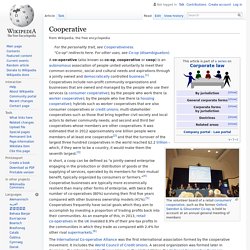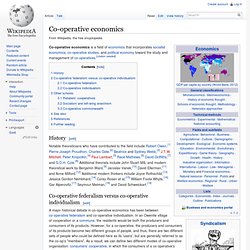 Co-operative economics is a field of economics , socialist economics , co-operative studies , and political economy , which is concerned with co-operatives . [ citation needed ] [ edit ] History Notable theoreticians who have contributed to the field include Robert Owen , [ 1 ] Pierre-Joseph Proudhon , Charles Gide , [ 2 ] Beatrice and Sydney Webb , [ 3 ] J.T.W.
Co-operative economics
Welcome to the New Zealand Cooperatives Association
The Co-operative | about us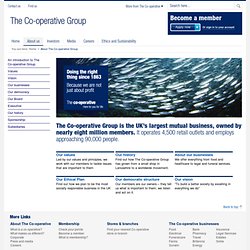 The Co-operative Group is the UK's largest mutual business, owned not by private shareholders but by over six million consumers. The Group operates 4,800 retail trading outlets, employs more than 100,000 people and has an annual turnover of more than £13bn. Our values Led by our values and principles, we work with our members to tackle issues that are important to them Our history Find out how The Co-operative Group has grown from a small shop in Lancashire to a worldwide movement.