Miscellaneous awesomeness
WikiLeaks is an international, online, non-profit [ 2 ] organisation which publishes secret information, news leaks , [ 4 ] and classified media from anonymous sources . [ 2 ] [ 5 ] Its website, initiated in 2006 in Iceland by the organisation Sunshine Press, [ 6 ] claimed a database of more than 1.2 million documents within a year of its launch. [ 7 ] Julian Assange , an Australian Internet activist , is generally described as its founder, editor-in-chief, and director. [ 8 ] Kristinn Hrafnsson , Joseph Farrell and Sarah Harrison are the only other publicly known and acknowledged associates of Julian Assange. [ 9 ] Hrafnsson is also a member of Sunshine Press Productions along with Assange, Ingi Ragnar Ingason and Gavin MacFadyen. [ 10 ] [ 11 ] The group has released a number of significant documents which have become front-page news items.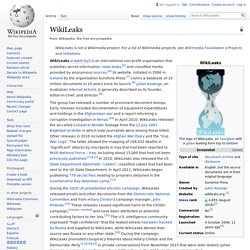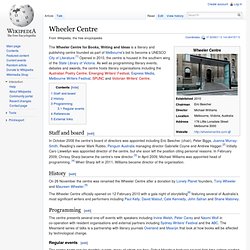 The Wheeler Centre for Books, Writing and Ideas is a literary and publishing centre founded as part of Melbourne 's bid to become a UNESCO City of Literature . [ 1 ] Opened in 2010, the centre is housed in the southern wing of the State Library of Victoria . As well as programming literary events, debates and awards, the centre hosts literary organisations including the Australian Poetry Centre , Emerging Writers' Festival , Express Media , Melbourne Writers Festival , SPUNC and Victorian Writers' Centre . [ edit ] Staff and board In October 2008 the centre's board of directors was appointed including Eric Beecher (chair), Peter Biggs, Joanna Murray-Smith , Reading's owner Mark Rubbo, Penguin Australia managing director Gabrielle Coyne and Andrew Hagger. [ 2 ] Initially Caro Llewellyn was appointed director of the centre, but she soon left the position citing personal reasons.
Wheeler Centre
Home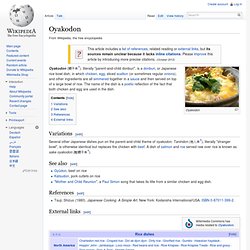 Oyakodon
Oyakodon Oyakodon ( 親子丼 ? ) , literally "parent-and-child donburi", is a donburi , or Japanese rice bowl dish, in which chicken , egg , sliced scallion (or sometimes regular onions ), and other ingredients are all simmered together in a sauce and then served on top of a large bowl of rice. The name of the dish is a poetic reflection of the fact that both chicken and egg are used in the dish. The simmering sauce varies according to season, ingredients, region, and taste.
A steampunk-themed photo "Maison tournante aérienne" (aerial rotating house) by Albert Robida for his book Le Vingtième Siècle , a 19th-century conception of life in the 20th century Steampunk is a sub-genre of science fiction that typically features steam-powered machinery, [ 1 ] especially in a setting inspired by industrialized Western civilization during the 19th century. Therefore, steampunk works are often set in an alternate history of the 19th century's British Victorian era or American "Wild West" , in a post-apocalyptic future during which steam power has regained mainstream use, or in a fantasy world that similarly employs steam power. Steampunk perhaps most recognizably features anachronistic technologies or retro-futuristic inventions as people in the 19th century might have envisioned them, and is likewise rooted in the era's perspective on fashion, culture, architectural style, and art.