Eggs
Nigel Slater's tortilla recipe | Life and style | The Observer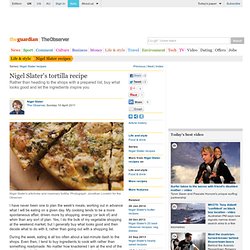 I have never been one to plan the week's meals, working out in advance what I will be eating on a given day. My cooking tends to be a more spontaneous affair, driven more by shopping, energy (or lack of) and whim than any sort of plan. Yes, I do the bulk of my vegetable shopping at the weekend market, but I generally buy what looks good and then decide what to do with it, rather than going out with a shopping list.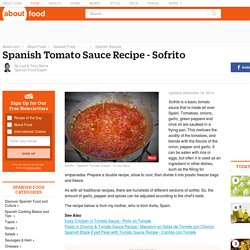 Sofrito is a basic tomato sauce that is made all over Spain. Tomatoes, onions, garlic, green peppers and olive oil are sautéed in a frying pan, so that the acid in the tomatoes mellows and mixes with the flavors of the onion, pepper and garlic. It can be eaten with rice or eggs, but often it is used as an ingredient in other dishes, such as the filling for empanadas.
Spanish Tomato Sauce Recipe - Sofrito recipe - Spanish Tomato Sauce - Sofrito
No doubt about it, the Tortilla Espanola or Spanish Omelet is the most commonly served dish in Spain. It is also called Tortilla de Patata or Potato Omelet. Bars and cafés serve it as a tapa or appetizer, but it is often served as a light dinner in Spanish homes. Because it is easy to transport, the Spanish make bocadillos or sandwiches by placing a piece between two pieces of a baguette. There are lots of variations of tortillas or omelets and a few are listed at the bottom of this recipe. This tortilla espanola or tortilla de patata makes 8-10 servings as an appetizer, or 6 servings as a main course.
Spanish Omelet - Recipe for Spanish Omelet - Tortilla Espanola Recipe - Tortilla de Patata Recipe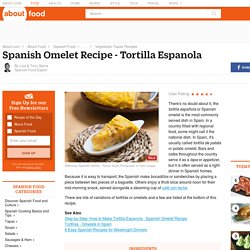 tortilla recipe
Food - Recipes : Tortilla (Spanish omelette)
spinach tortilla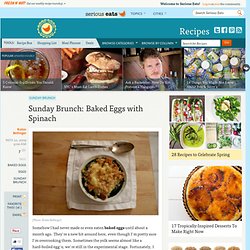 Sunday Brunch: Baked Eggs with Spinach
[Photo: Robin Bellinger] Somehow I had never made or even eaten baked eggs until about a month ago. They're a new hit around here, even though I'm pretty sure I'm overcooking them.
Spinach Frittata Recipe
Method 1 Preheat oven to 400°F. 2 Cook spinach in 1/4 cup of water in a covered saucepan until just wilted, a couple minutes. Drain water and set aside. 3 In a mixing bowl, whisk together eggs, milk, and Parmesan cheese. Add in chopped sun-dried tomatoes, and sprinkle with salt and pepper.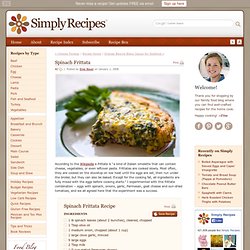 eggs and spinach