Beef
Roast Beef Recipe (with step-by-step photos)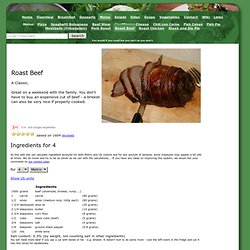 Ingredients for 4 Show US units Salt content: 0.3% (by weight, not counting salt in other ingredients) Method Please follow the step-by-step instructions below.
PREPARATION of Beef Always rinse raw meat under cold running water then dry well on kitchen paper. It has become popular to trim all fat from various cuts of meat, both at the point of sale and in the home, however, we would recommend not doing so until after cooking has taken place as the fat adds enormously to both the cooking process and the taste. The same goes for adding salt and other flavourings. Whilst the old saying about "one always being able to add salt but not being able to take it out" is true (there's nothing worse than over salty food), the taste of Beef and veal, as with all foods, is enhanced by seasoning before and during cooking. Adding salt afterwards just doesn't produce the same taste.
oking beef - general preparation and cooking times for Beef and Veal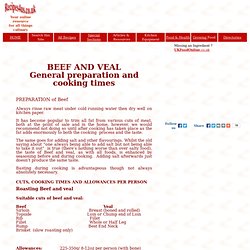 roasting time for beef brisket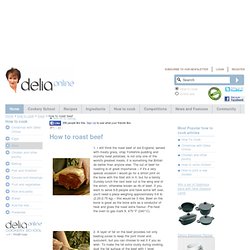 How to roast beef - from Delia Online
5. To see if the beef is cooked to your liking insert a thin skewer into the thickest part of the joint and press out some juices: the red, pink or clear colour will indicate how much the beef has cooked. When it is cooked to your liking, remove it from the oven, transfer it to a board and allow it to stand in a warm place for up to an hour, loosely covered with foil, before carving – to let all the precious juices that have bubbled up to the surface seep back into the flesh.
Really Nice Recipes - Slow Roast Beef
Slow roast anything is wonderful, you put it in the oven and forget about it until the smell of delicious cooked meat wafts into your nostrils reminding that it's dinner time. Ingredients 1kg beef brisket 1 onion 150ml red wine 2 tablespoons of vegetable oil Preparation Time: 10 minutes Cooking Time: 3½ hours Serves: Yes, if eaten cold, for up to 3 days. Method Heat the oven to 140°c.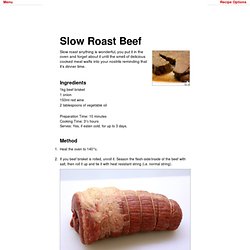 River Cottage - River Cottage Community Recipes
Slow-roast Beef Brisket: Brisket's open-grained texture and depth of flavour make it perfect for slow-cooking. Don't let the butcher trim off too much fat – a certain amount is needed in order to achieve the final, full-bodied result. Preheat the oven to 200C/gas 6.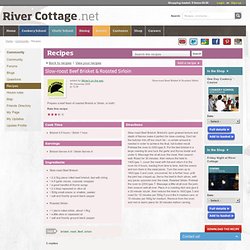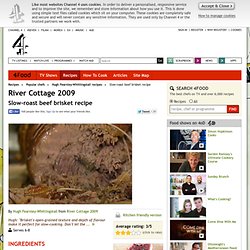 How to make slow-roast beef brisket 1. Preheat the oven to 200°C/gas 6. 2. Put the tied brisket in a large roasting tin and tuck the garlic and thyme inside and under it.
Slow-roast beef brisket recipe - Channel4 - 4Food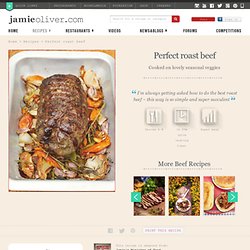 Perfect roast beef | Jamie Oliver Recipes (UK)
Close Buying sustainably sourced fish means buying fish that has been caught without endangering the levels of fish stocks and with the protection of the environment in mind. Wild fish caught in areas where stocks are plentiful are sustainably sourced, as are farmed fish that are reared on farms proven to cause no harm to surrounding seas and shores. When buying either wild or farmed fish, ask whether it is sustainably sourced. If you're unable to obtain this information, don't be afraid to shop elsewhere – only by shopping sustainably can we be sure that the fantastic selection of fish we enjoy today will be around for future generations.
Beef pot roast recipe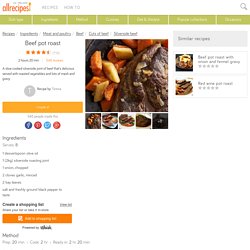 Recipe by: Teresa A slow cooked silverside joint of beef that's delicious served with roasted vegetables and lots of mash and gravy. Ready in 2 hours 20 mins Saved by 157 cook(s) Ingredients
Beef recipes, how to roast, pot roast, braise, stew, grill and fry
Beef Silverside (Top Round) Recipes
roast silverside joint
Roast Beef Recipe (with step-by-step photos)
How do i cook silverside beef for a roast
Beef – silverside, topside, top rump - Ingredients a-c - Ingredients - from Delia Online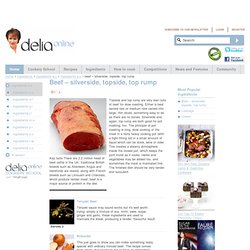 There are 2.2 million head of beef cattle in the UK; traditional British breeds such as Aberdeen Angus and Herefords are reared, along with French breeds such as Limousin and Charolais, which produce tender meat; beef is a major source of protein in the diet. Topside and top rump are very lean cuts of beef for slow roasting. Either is best served rare or medium rare carved into large, thin slices, something easy to do as there are no bones.
Food - Beef recipes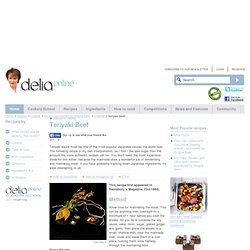 Teriyaki Beef - Oriental
Teriyaki sauce must be one of the most popular Japanese sauces the world over. The following recipe is my own interpretation, as I find I like less sugar than the amount the more authentic recipes call for. You don't need the most expensive steak for this either, because the marinade does a wonderful job of tenderising and mellowing meat. If you have problems tracking down Japanese ingredients, try www.clearspring.co.uk Serves 2 This recipe first appeared in Sainsbury's Magazine (Oct 1994).
Return to listing This just goes to show you can make something really special with ordinary minced beef. The recipe comes from Africa, but seems to me to have an interesting mixture of European and Oriental overtones. Serves 1 This recipe is taken from Delia Smith's One is Fun! Start off by heating the butter in a heavy-based frying-pan, then add the onion and apple and cook gently for 10 minutes to soften.
Boboutie - Oriental
The good thing about Chinese cooking is that it always manages to make a little meat go a long way. Rump steak is perfect for stir-frying, and for this recipe just 4 oz (110 g) per person is plenty. Serves 2
Chinese Crispy Beef Stir-fry - Chinese
beef skirt