Psychology
Why Men and Women Can't Be &Just Friends& Is the idea of a pure, platonic relationship between non-related, heterosexual men and women a myth?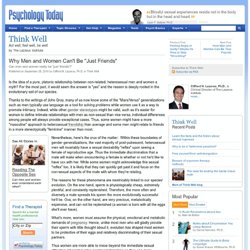 For the most part, it would seem the answer is "yes" and the reason is deeply rooted in the evolutionary soil of our species. Thanks to the writings of John Gray, many of us now know some of the "Mars/Venus" generalizations such as men typically use language as a tool for solving problems while women use it as a way to promote intimacy. A Day in the Life of a Mental Hospital Patient. 6:05 am: You lie awake in your tiny bed, underneath the salmon covers, your neck sore from sleeping on one pillow (you asked for another but you'll need a doctor's order to have more than one.)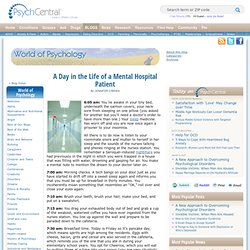 Your sleep medicine has worn off and you are now once again a prisoner to your insomnia. All there is to do now is listen to your roommate snore and mutter to herself in her sleep and the sounds of the nurses talking and phones ringing at the nurses station. You remember a Seroquel-induced nightmare you had previously in the night in which you were trapped in a house that was filling with water, drowning and gasping for air. You make a mental note to mention the dream to your doctor later on. 7:00 am: Morning checks.
Schumpeter: Think different. Restoring happiness in people with depression. Practicing positive activities may serve as an effective, low-cost treatment for people suffering from depression, according to researchers at the University of California, Riverside and Duke University Medical Center.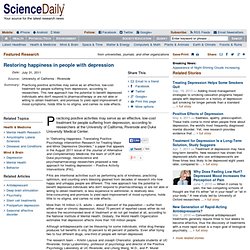 In "Delivering Happiness: Translating Positive Psychology Intervention Research for Treating Major and Minor Depressive Disorders," a paper that appears in the August 2011 issue of the Journal of Alternative and Complementary Medicine, the team of UCR and Duke psychology, neuroscience and psychopharmacology researchers proposed a new approach for treating depression -- Positive Activity Interventions (PAI). PAIs are intentional activities such as performing acts of kindness, practicing optimism, and counting one's blessing gleaned from decades of research into how happy and unhappy people are different. Gestures and Body Language Tutorial.
Freuds *The Interpretation of Dreams* Chapter 1, Section D. Back to Psych Web Home Page Back to The Interpretation of Dreams Table of Contents D.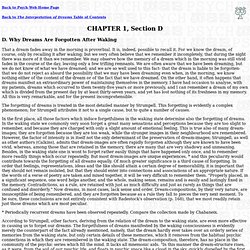 Why Dreams Are Forgotten After Waking That a dream fades away in the morning is proverbial. Philip Zimbardo shows how people become monsters ... or heroes | Video on... 10 Psychological Effects of Nonsexual Touch. Psychological research on how a simple (nonsexual) touch can increase compliance, helping behaviour, attraction, and signal power.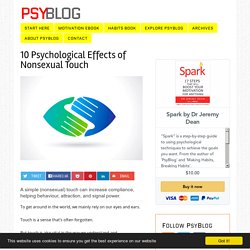 To get around in the world, we mainly rely on our eyes and ears. Touch is a sense that's often forgotten. But touch is also vital in the way we understand and experience the world. Psychology | Documentary Heaven | Watch Free Documentaries Online. In Holding the Sun we get to look into a Canadian family's struggle to save their son from schizophrenia and cope with the consequences of the condition.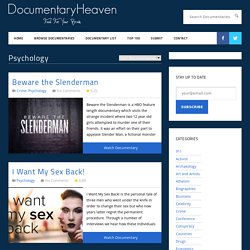 The Millar family was torn apart when on May 30th, 1997, Ruth Millar's son Aaron came calmly up behind her and stuck a sword through her heart. Earlier that morning Ruth wrote to her husband about Aaron's schizophrenia. She said he was looking quite psychotic these days, not in a harmful way but simply because he lives in his own world. Color Psychology & Infoplease.com. By David Johnson Like death and taxes, there is no escaping color.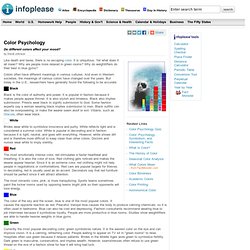 It is ubiquitous. Yet what does it all mean? Imagine A World Where Aspergers Was The Norm. Psychology | Watch Free Documentaries Online - Page 5. Procrastination: Ten Things To Know. Is your procrastination hindering you?
Ten things you should know. There are many ways to avoid success in life, but the most sure-fire just might be procrastination . Procrastinators sabotage themselves. They put obstacles in their own path. They actually choose paths that hurt their performance. Ten Politically Incorrect Truths About Human Nature. Human nature is one of those things that everybody talks about but no one can define precisely.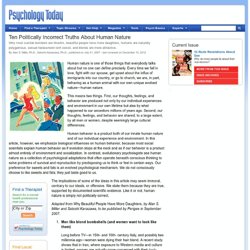 Every time we fall in love, fight with our spouse, get upset about the influx of immigrants into our country, or go to church, we are, in part, behaving as a human animal with our own unique evolved nature—human nature. This means two things. First, our thoughts, feelings, and behavior are produced not only by our individual experiences and environment in our own lifetime but also by what happened to our ancestors millions of years ago. Second, our thoughts, feelings, and behavior are shared, to a large extent, by all men or women, despite seemingly large cultural differences. How the Brain Stops Time. One of the strangest side-effects of intense fear is time dilation, the apparent slowing-down of time.
It's a common trope in movies and TV shows, like the memorable scene from The Matrix in which time slows down so dramatically that bullets fired at the hero seem to move at a walking pace. In real life, our perceptions aren't keyed up quite that dramatically, but survivors of life-and-death situations often report that things seem to take longer to happen, objects fall more slowly, and they're capable of complex thoughts in what would normally be the blink of an eye. Now a research team from Israel reports that not only does time slow down, but that it slows down more for some than for others. Why do smart kids grow up to be heavier drinkers? How We Shoot Ourselves in the Foot in Committed Relationships.
Falling in love is as natural as death. Staying in love is as natural as good diet and healthy exercise. We can eat, exercise, and love well in the short run, but over the long haul of everyday modern living, we tend to shoot ourselves in the foot. That's because, like toddlers, we try to do these things in the wrong part of our brains. Below are two of the major ways we shoot ourselves in the foot when it comes to love. Want to Know If Someone Likes You? | Psychology Today - StumbleUpon. Ever wondered if someone you're attracted to likes you or not, whether someone is your friend or foe, or whether your employees respect you? There's an easy way to find out... try to make them laugh . If the laughter comes easy, the answer is likely yes. If it doesn't, the answer is likely no.
---