Social media
Social Media Explorer — Social Media Consulting, Public Speaking and Education. Www.jeffbullas.com/2010/11/17/12-principles-of-social-media-marketing/ Social media marketing is changing the marketing landscape so fast that companies are struggling to adapt their strategies and tactics.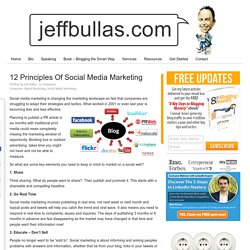 What worked in 2001 or even last year is becoming less and less effective. Planning to publish a PR article in six months with traditional print media could mean completely missing the marketing window of opportunity. Booking bus or outdoor advertising takes time you might not have and not be able to measure. So what are some key elements you need to keep in mind to market on a social web? 1. HOW TO: Use Facebook Social Plugins on Your Website. This post originally appeared on the American Express OPEN Forum, where Mashable regularly contributes articles about leveraging social media and technology in small business.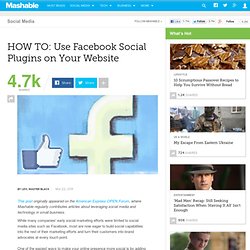 While many companies' early social marketing efforts were limited to social media sites such as Facebook, most are now eager to build social capabilities into the rest of their marketing efforts and turn their customers into brand advocates at every touch point. One of the easiest ways to make your online presence more social is by adding Facebook social plugins to your website. Search Engine Optimization - How Search Engine Optimization Works. There are many ways to direct extra traffic to your web site, but search engine optimization may be the best.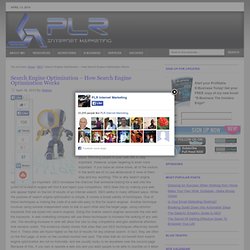 Unlike many traditional types of advertising, such as banner ads, this technique does not cast a wide net and hope for the best. Instead, it takes the opposite approach, simply making your site easier to find for people who are looking for a site that is similar to it. This is a much more reliable method of gaining additional viewers for your site, especially because it only targets people who are interested in you in the first place. Directing people to your web site is very important. However, proper targeting is even more important. 5 Ways to Managing Your Time on Twitter | Smedio | The New Media and Social Web Guide for Business and Marketers. Social Media Training - Three Methods to Tweet Effectively. The 3 Pillars of Social Media Readiness. .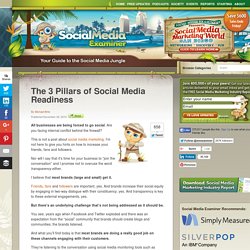 Are you facing internal conflict behind the firewall? This is not a post about social media marketing . I'm not here to give you hints on how to increase your friends, fans and followers. Nor will I say that it's time for your business to "join the conversation" and I promise not to overuse the word either. Friends , fans and followers are important, yes. 34 Stats About Facebook, Twitter, and Social Networking. Social Media Associate (Entry-level) Job, Morpheus Media. 25 Ways to Use the Web to Find Content for Your Blog. This post originally appeared over at our blog resource centre, For Bloggers By Bloggers.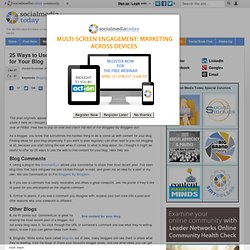 I wanted to share it here as I thought you might find it useful, as well as share some of the free resources we offer over at FBBB. Feel free to pop on over and check the rest of For Bloggers By Bloggers out! As a blogger, you know that sometimes the hardest thing to do is come up with content for your blog. Finding ideas for your blog (especially if you want to post regularly) can often lead to you not blogging at all, because you start hitting the wall when it comes to what to blog about.
How to be the Life of the Social Media Party. General Social Media Strategy. How to Take an Idea to Launch in 4 Steps. 23 Essential Social Media Resources You May Have Missed. We know, it's summer in some parts of the world — you don't want to stay indoors all day everyday.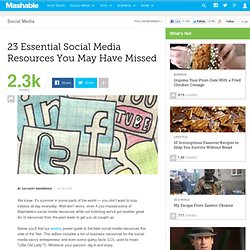 Well don't worry, even if you missed some of Mashable's social media resources while out frolicking we've got another great list of resources from the past week to get you all caught up. Below you'll find our weekly power-guide to the best social media resources this side of the 'Net. This edition includes a ton of business resources for the social-media-savvy entrepreneur and even some quirky facts (LOL used to mean "Little Old Lady"?).
Whatever your passion, dig in and enjoy. Social Media. 8 Reasons Why Your Business MUST Invest in Social Media | drivinMedia. Linkwheels. Web 2.0 | Technology. What Is Web 2.0. By Tim O'Reilly 09/30/2005 Oct. 2009: Tim O'Reilly and John Battelle answer the question of "What's next for Web 2.0?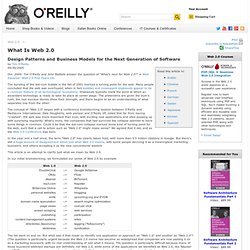 " in Web Squared: Web 2.0 Five Years On. The 5 Most Essential Priciples for Writing an Effective Blog Post | drivinMedia. Social Media News and Web Tips – Mashable – The Social Media Gui. Logo Design, Web Design, Design Contests | 99designs.com.
---