Déontologie
Environnement et conservation des documents. Prévention des dégradations dues à l'homme Les dégradations dues à l'homme peuvent être minimisées.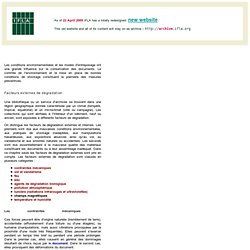 La négligence est souvent liée à l'absence de formation aux pratiques de conservation préventive et à la méconnaissance des conséquences de mauvaises conditions de conservation et de manipulation. Edgar Morin. Un article de Wikipédia, l'encyclopédie libre.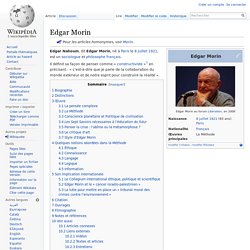 Pour les articles homonymes, voir Morin. Edgar Morin Edgar Nahoum, dit Edgar Morin, né à Paris le , est un sociologue et philosophe français. CeROArt - Conservation, exposition, Restauration d'Objets d'Art. AIC – Book and Paper Group. The Book and Paper Group (BPG) is the largest of the specialty groups within the American Institute for Conservation (AIC).
Its more than 900 members represent a wide variety of backgrounds and specialties but share a common interest in the preservation and conservation of artifacts and collections of paper-based materials. Various informal focus on areas of specific expertise such as fine art on paper, books, archives, and libraries. Frequently asked questions - National Archives of Australia. FrameSecure®, Security Hangers, Frame Tek, Inc. Call for Current Pricing To Order Call Weekdays 1-800-227-9934 from 8am-4:30pm Pacific Coast Time or contact by e-mail Tel: 541-431-4365 Fax: 541-431-4366 Products FrameSpace — Watch The Video EconoSpace RabbetSpace — Watch The Video Acrylic Edge Scraper Pilot Drills Framing Pliers FrameSecure Articles & Info NEW!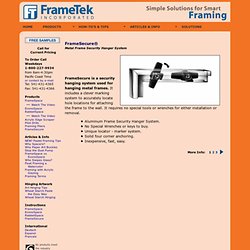 Pastel Framing Tips Why Spacers?
---