Stumble Pics
Tastefully Offensive | Premium Funny: Just Right. Cubicle Warfare - Tighten, Toss, Run! 302986_1195805008_large.jpg (1600×691) Genius Part 3 [30 Pics] Norwey. A Father Who Creatively Captures His Kids (20 photos) If there was a prize that could be given out to the most creative father, I'd hope that it was awarded to Jason Lee.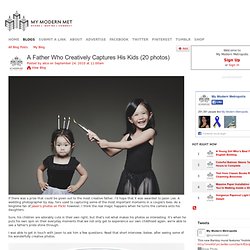 A wedding photographer by day, he's used to capturing some of the most important moments in a couple's lives. As a longtime fan of Jason's photos on Flickr however, I think the real magic happens when he turns the camera onto his daughters. Sure, his children are adorably cute in their own right, but that's not what makes his photos so interesting. It's when he puts his own spin on their everyday moments that we not only get to experience our own childhood again, we're able to see a father's pride shine through. I was able to get in touch with Jason to ask him a few questions. Graffiti-on-Polar-icebergs.png (1348×842) Ex - SmartphOWNED - Fail Autocorrects and Awkward Parent Texts.
Solitude - 2010/2011 - A work in progress on the Behance Network. Creepy, Crusty, Crumbling: Illegal Tour of Abandoned Six Flags New Orleans [75 Pics] Hurricane Katrina killed this clown.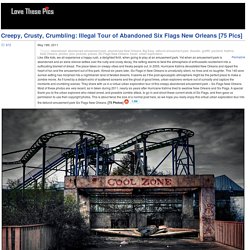 According to the photographer, "An abandoned Six Flags amusement park, someone spray painted 'Six Flags 2012 coming soon' on the wall above the downed head. But they were clownin.' Six Flags will never rebuild here." That's sad, but much of New Orleans has not been restored to her former glory. JPG Dump. I Never Realised How Important Eyebrows Are. 105039_1159346235_large.jpg (1400×693) Stefano Unterthiner Photography : Animals Face to Face | COLT + RANE.
Born like an artist. Yokai_jiten_2_large.jpg (1000×712) MiscPix on each Click!
---