Internet Marketing
Employees
Raven Tools Pricing and Plans. Frequently asked questions What does Raven cost?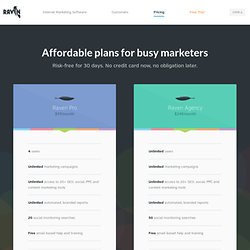 Pro accounts cost $99 a month. Agency accounts cost $249 a month. Black Hat SEO Forum. 6 Tips to Increase Your Facebook EdgeRank and Exposure. Ever wonder why you can have 548 friends on Facebook , yet only 15-20 show up in your news feed?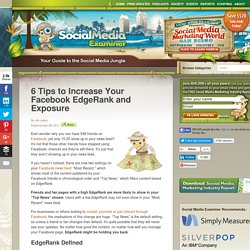 It's not that those other friends have stopped using Facebook; chances are they're still there. It's just that they aren't showing up in your news feed. If you haven't noticed, there are now two settings on your Facebook news feed : "Most Recent," which shows most of the content published by your Facebook friends in chronological order and "Top News," which filters content based on .
EdgeRank: The Secret Sauce That Makes Facebook's News Feed Tick. Yesterday at its f8 developer conference, Facebook engineers Ruchi Sanghvi and Ari Steinberg gave what may be the first thorough walkthrough of the underpinnings of Facebook News Feed, the all-important page that users see when they first log on to the site.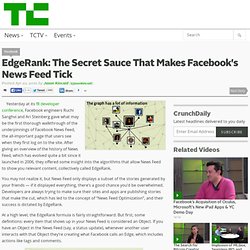 After giving an overview of the history of News Feed, which has evolved quite a bit since it launched in 2006, they offered some insight into the algorithms that allow News Feed to show you relevant content, collectively called EdgeRank. You may not realize it, but News Feed only displays a subset of the stories generated by your friends — if it displayed everything, there's a good chance you'd be overwhelmed. Developers are always trying to make sure their sites and apps are publishing stories that make the cut, which has led to the concept of "News Feed Optimization", and their success is dictated by EdgeRank. The 5 Best Free Tools For Making Slick Infographics.
It's not enough to simply write about data any longer; the world wants visuals.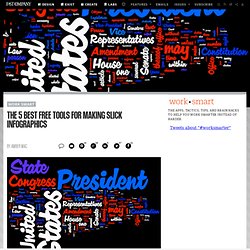 While there are many professional information designers making a name for themselves, such as Nicholas Felton of Feltron.com, the majority of these digital artists are up to their eyeballs in high-paying work. Where does this leave you? Well, if you want to spruce up your documents, blog posts, and presentations, there are some free tools online that can help.
EdgeRank Checker | Check your Facebook Page's EdgeRank. Revo Uninstaller - Free software downloads and software reviews.
---