Ref./Educ.
I have to tell you that it was a tough call to make these decisions, especially when we're talking every teacher no matter what grade level or subject, but I hope that you find a couple of gems to put away in your virtual treasure box. You may have others you'd like to add to the list. Please post them in the comments for all of us to explore.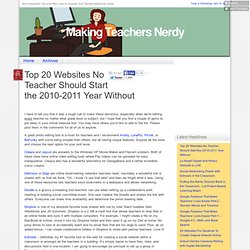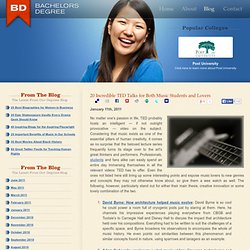 20 Incredible TED Talks for Both Music Students and Lovers | Bachelor's Degree
David Byrne: How architecture helped music evolve: David Byrne is so cool he could power a room full of cryogenic pods just by staring at them. Here, he channels his impressive experiences playing everywhere from CBGB and Tootsie's to Carnegie Hall and Disney Hall to discuss the impact that architecture held over his compositions. Everything had to be written to suit the challenges of a specific space, and Byrne broadens his observations to encompass the whole of music history. He even points out similarities between this phenomenon and similar concepts found in nature, using sparrows and tanagers as an example.Adam Sadowsky engineers a viral music video: Emerging technologies and social media have changed the face of music forever, and bands such as OK Go discovered creative ways to yield the internet as a promotional tool. Even those who don't much enjoy their music still appreciate the imagination and painstaking detail that goes into their viral videos.
Entertainment Meet David Peterson, who developed Dothraki for Game of Thrones There are seven different words in Dothraki for striking another person with a sword. Among them: "hlizifikh," a wild but powerful strike; "hrakkarikh,"a quick and accurate strike; and "gezrikh," a fake-out or decoy strike.