Books
Aerotropolis
A new urban form placing airports in the center with cities growing around them, connecting workers, suppliers, executives, and goods to the global marketplace. Author John D. Kasarda has published more than 100 articles and nine books on airport cities, aviation infrastructure, economic development, and competitiveness. John D.
Reality is Broken is now a New York Times Bestseller! 現実は壊れているは、今ニューヨークタイムズのベストセラーです! "Reality Is Broken will both stimulate your brain and stir your soul. Once you read this remarkable book, you'll never look at games—or yourself—quite the same way."—Daniel H. Pink, author of Drive and A Whole New Mind"リアリティが壊れていると、両方のあなたの脳を刺激し、あなたの魂をかき混ぜます。
Reality is Broken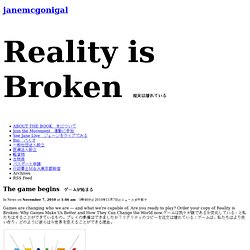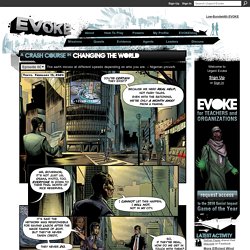 EVOKE Group Play Greetings EVOKE agents, Over the summer we completed another round of EVOKE for almost 40 classrooms with players from Australia, Bolivia, Canada, Denmark, Germany, India, Italy, Mexico, Morroco, Nepal, New Zealand, Peru, Philippines, South Africa, Taiwan, Uganda, USA, and Zambia. During this phase players created over 2,000 new blog posts.