General Internet Stats
Nielsen's Law of Internet Bandwidth (Alertbox 1998; updated 2010 - still a good fit)
Posted in Tech blog on January 12th, 2011 by Pingdom What happened with the Internet in 2010? How many websites were added? How many emails were sent? How many Internet users were there?
Since launching we have been really busy listening to the feedback from our customers. And in retrospect we could have done some things better, and we are sorry for the sudden and big change this has been for you. Read more Today, we're thrilled to take Pingdom BeepManager out of beta, and bring you a new and better way to work with your incidents. Internet is a fragile thing and stuff will break, so having the right person getting the right alert in the right way is an important part in our commitment to make the web faster and more reliable.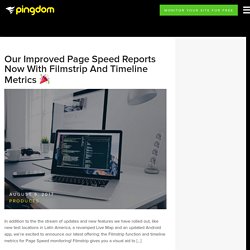 Internet World Stats is an International website that features up to date world Internet Usage, Population Statistics, Travel Stats and Internet Market Research Data, for over 233 individual countries and world regions. See the Internet Big Picture here. Internet World Stats is a useful source for travel and hotel stats, international online market research, the latest Internet statistics, world Internet penetration data, world population statistics, telecommunications information reports, and Facebook Stats by country.