Dorr426
Daniel
i like things not people
Skyrim t-shirts - Fus Ro Dah! Skyrim tshirts for the Dovahkiin within! Video - Wreck-It Ralph trailer (2012) - National Animation. Disney brought footage from "Wreck-It Ralph" to Comic-Con on July 12, and while it may not be the biggest movie for the company to promote, it contains the perfect mix for the Comic-Con audience to eat up.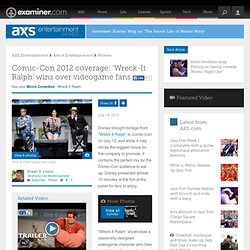 Disney presented almost 10 minutes of the film at the panel for fans to enjoy. "Wreck-It Ralph" showcases a classically-designed videogame character who tires of his life in the game, feeling underappreciated, and runs away to find what else he might be missing in life. Along the way, he comes across numerous classical characters from other games, such as the Pac-Man ghosts and Bowser from "Mario Brothers." OUYA: A New Kind of Video Game Console by OUYA.
We just added game streaming through OnLive!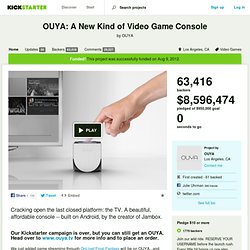 Final Fantasy will be on OUYA...and we have an exclusive game! And VEVO has agreed to put their music videos on OUYA, XBMC adds a streaming media app, with TuneIn and iHeartRadio adding music! We're honored by all of you who are backing us -- THANK YOU. We are focused on delivering for you, first come first served. 11 cheap gifts guaranteed to impress science geeks - Crazy as a Bag of Hammers - #Humor, #Jokes and #fun stuff. - Buy Click, Crazy, fun, Giant Plush Microbes, gifts, Klein Bottle, Miracle Berries, world. Science comes up with a lot of awesome stuff, and you don't need a Ph.D, a secret lab, or government funding to get your hands on some of the coolest discoveries.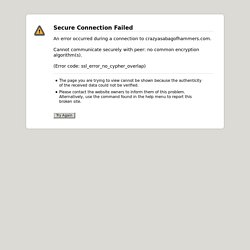 We've got a list of 11 mostly affordable gifts that are guaranteed to blow your mind, whether or not you're a science geek. Also known as frozen smoke, Aerogel is the world's lowest density solid, clocking in at 96% air. It's basically just a gel made from silicon, except all the liquid has been taken out and replaced with gas instead. If you hold a small piece in your hand, it's practically impossible to either see or feel, but if you poke it, it's like styrofoam. Aerogel isn't just neat, it's useful. Lucid. Slutty Brownies. Now I don't want to over sell this, so I'm going to be conservative and simply say, that these are...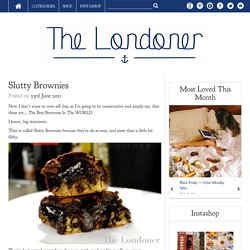 The Best Brownies In The WORLD. I know, big statement. They're called Slutty Brownies because they're oh so easy, and more than a little bit filthy. They're best served warm from the oven, with good quality vanilla ice cream (devastatingly I didn't have any in the freezer this time, so I guess I'll just have to make them again). Keep downloading in The Pirate Bay! The Bitterroot Footage. T-Shirts & Apparel :: Unisex Shirts :: Pop Culture.
Can't Keep Up | Silhouette. I cant keep up cant keep track with whats happening look at me now am i sane?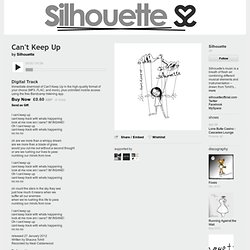 IM INSANE! Oh I cant keep up cant keep track with whats happening no no no oh are we more than a whispy dream are we more than a blade of grass would you cut me out without a second thought or are we rushing our lives to pass numbing our minds from love I cant keep up cant keep track with whats happening look at me now am i sane? Chocolate Chip Lava Cookies. I am so in love with these darn chocolate lava cookies!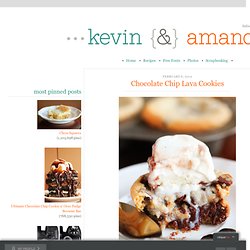 What is it about a warm, gooey chocolate chip cookie stuffed with decadent, rich, melted chocolate that makes it so irresistible?? Especially when topped with vanilla ice cream. These are one of Kev's favorite homemade treats, and he usually asks me to make them at least once a week. They are so simple to whip up, and such a treat! Let's make some right now :) Death By Oreo Cupcakes. They are probably the best Oreo cakes I have ever tried.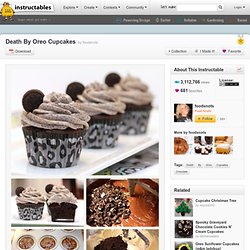 A lot of cake's that I have experimented with before are like a vanilla cake with bits of Oreo in them, which didn't really give them enough Oreo flavor. But these were a lot better. I used a dark chocolate fudge cake mix instead of just a regular chocolate cake mix, which went really well with the cookies and gave the cakes just a little more flavor. So, in this recipe there is Oreo's in the cake, in the frosting, and at the bottom is a Oreo surprise.
Monster in the closet.
Pearltrees videos
Getting started.
---