Blogs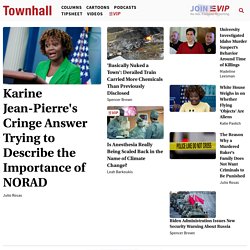 Townhall
Jan 17, 2014 | Login | Signup Court: Bloggers have First Amendment protections Judge Declares NC Abortion Ultrasound Law Illegal Young Liberal: As Much As I Support Obamacare, I Just Can't Afford It Michelle Malkin: John Kerry, Jihad Coddler
Michelle Malkin
Here we go again. Liberal media outlets CNN and MSNBC have joined forces with the biased, numbers-cooking Southern Poverty Law Center and New America Foundation to foment renewed fear and hatred of conservative Americans. Their latest talking point: "Right-wing" terrorists have caused more American deaths than Islamic jihadists since 9/11. CNN ran with the "story" first.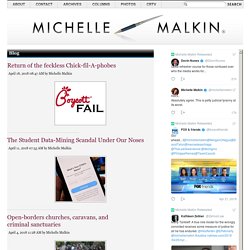 Instapundit
THE MORE THEY TALK ABOUT EQUALITY, THE MORE THEY ACT LIKE AN ARISTOCRACY: Dems Discuss 'Income Inequality' at Grammys, Posh St. Regis. Democrats have made the issue of "income inequality" the cornerstone of their platform going into the November elections. In less than two months, the House Democrats will discuss this and other issues at the swanky and posh St. Regis hotel in Manhattan. Rooms start at $695 a night if you would like to join them.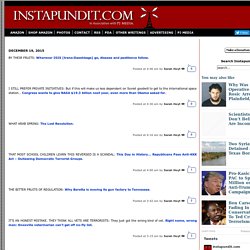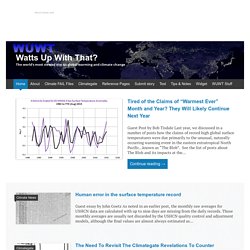 Frontiers fires back again on the hype surrounding Lewandowsky's retracted Recursive Fury paper Readers may recall some ethics objections I raised in my complaint letter to UWA and Psychological Science, and also sent to Frontiers. It seems Frontiers agrees. This statement was posted on their website today: ===========================================================
Watts Up With That?
- Big Government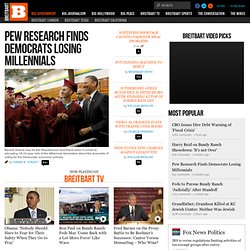 Now Playing On Breitbart TV Featured Contributors The shootings at a Jewish community center in suburban Kansas City have now been officially deemed a hate crime, officials said on Monday. by Warner Todd Huston 14 Apr 2014 4
Curmudgeonly & Skeptical presents Boned Jello