Education
Hearing on Abstinence-Only - Knox's Testimony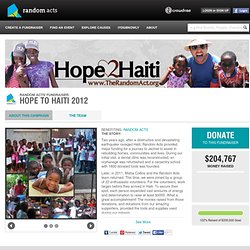 It will take anywhere from 3 seconds to 1 minute for your pic to upload, depending on how big it is. You're going to see this message every time you post a new pic. So, we're making the text really long so that it'll take you at least five picture uploads to read it all.
Hope to Haiti 2012 | RANDOM ACTS
Valuable Girl Project: Empower 1000 Girls in Egypt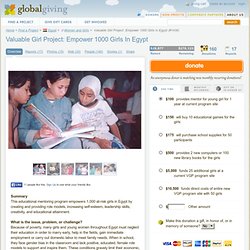 Summary
GEMS: Girls Educational & Mentoring Services
Anyone who's had any recent experience with the American education system knows that most of the time, it's not an inherently queer-friendly place. From the locker room at gym to the video about where babies come from in health class, it's a straight straight world out there.
We Don't Need No Education (That Doesn't Recognize Queer Identities)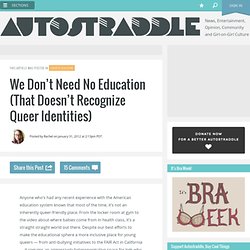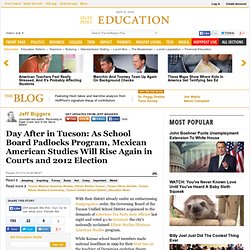 With their district already under an embarrassing desegregation order, the Governing Board of the Tucson Unified School District acquiesced to the demands of notorious Tea Party state officials last night and voted 4-1 to terminate the city's nationally acclaimed Ethnic Studies/Mexican American Studies program.
Jeff Biggers: Day After in Tucson: As School Board Padlocks Program, Mexican American Studies Will Rise Again in Courts and 2012 Election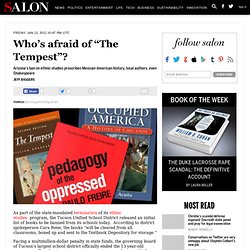 Who's afraid of "The Tempest"? - Books
As part of the state-mandated termination of its ethnic studies program, the Tucson Unified School District released an initial list of books to be banned from its schools today.
Twelve Things You Were Not Taught in School About Creative Thinking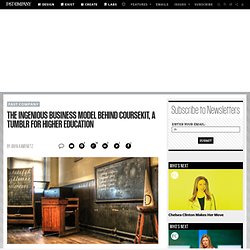 At universities, educational software largely means enterprise-scale, expensive, feature-stuffed "learning management systems."
The Ingenious Business Model Behind Coursekit, A Tumblr For Higher Education
The 5 Best Toys of All Time
Here at GeekDad we review a lot of products — books, toys, gadgets, software — and I know it's impossible for most parents to actually afford all of the cool stuff that gets written up. Heck, most of us can't afford it either, and we're envious of the person who scored a review copy of a cool board game or awesome gizmo. (Disclosure: that person is probably me.)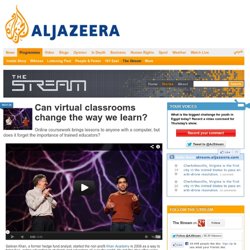 Salman Khan, a former hedge fund analyst, started the non-profit Khan Academy in 2006 as a way to bring free, online education to students and educators all over the world. He got the idea after using his webcam and basic software to tutor his younger cousin in maths. Since then, Khan Academy's 2,700 educational videos have received more than 98 million total views via YouTube.
Can virtual classrooms change the way we learn
George carlin Bankers
An Illinois teacher at Eureka High School is on paid suspension for showing clips of "The Daily Show" in school. Rhett Felix, a first-year government and law teacher, showed three segments from Jon Stewart's show to his sophomore-level class, The Pantagraph reports. Parents of the students complained that the clips had obscenities, sexual content and the perception that the teacher carries liberal bias.
Rhett Felix, Illinois Teacher, Suspended For Showing Jon Stewart 'Daily Show' Clips In Class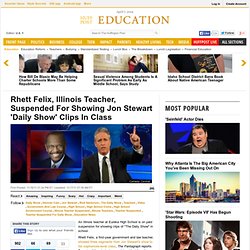 now playing GOP unemployment stand ignores economic factsup next Will 2014 see reproductive rights backlash? Politics, ignorance slow Guantanamo closure Debunktion Junction: Flying Ace edition Maddow rejects Kochs' call for correction The right presses on for welfare drug tests Energy industry runs roughshod over ND When life gives you sea ice, make snow cones Unprecedented tech en route to disarm Syria Utah AG seeks help to end marriage equality Doggy directions: Follow their nose, or yours Our New Year's resolution 2013 Bests: Gay in the head, Detroit's dragon 2013 Bests: Steve on the line 2013 Bests: Who you callin' Faloomabinga? 2013 Bests: Facing the music 2013 Bests: Turkish game show and SF's hero 2013 Bests: The Putin dog 2013 Bests: TMI on President Johnson's pants Maddow: Unsolvable things are solvable Phoenix ends chronic homelessness among vets Maddow: Metaphor mixologist Utah couple's case unlocks same sex marriage Here come the best of the Best New Things!
Mario Savio & Occupy Berkley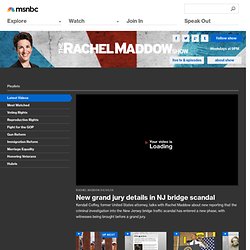 Why I'm raising my son to be a nerd
Granderson: Nerd or jock, why pick?
NYU Exiting National Merit Scholarship
New York University pulled out of the National Merit scholarships, becoming at least the ninth school to stop funding one of the largest U.S. merit-based aid programs, because it doesn't want to reward students based on a standardized test. The National Merit Scholarship Corp. distributed more than $50 million to students in the 2009-2010 year based on the PSAT college entry practice exam. Most of the money comes from almost 200 colleges, including Northwestern University and University of Chicago, to fund awards of as much as $8,000 over four years.
by Mobify
September 26, 2011
The Story of Stuff
RSA Animate - Changing Education Paradigms
Milk + Bookies - Read, Give, Grow!!!
Transcendental Meditation : Education : David Lynch Foundation
When we make music we don't do it to reach a certain point, to get to the end of the song or composition. The journey or the playing itself is the point. During which we come to feel our basic inseparability from the whole universe, wipe out identification with thoughts and escape the interminable chatter that goes on in our heads.
Amanda Palmer Discusses the Launch of David Lynch Foundation Music
Matt Damon's clear-headed speech to teachers rally - The Answer Sheet
Posted at 07:57 PM ET, 07/30/2011