Org finance
Funding Sources | Mass Mentors. Sun Life Rising Star Award: Next deadline June 9, 2014 To be considered for a Sun Life Rising Star Award, your organization should: be designated as not-for-profit and tax-exempt as defined by the Internal Revenue Service code,operate within (or within 40 miles of) one of the following locations: Boston, MA; Detroit, MI; Philadelphia, PA; Los Angeles, CA; or South Florida (includes the following counties: Miami-Dade, Palm Beach, Broward, Lee, Hendry, Collier, and Monroe),directly benefit secondary school youth, ages 21 and younger, in the area of education engagement and matriculation rates,be aligned with or partner with secondary or post-secondary educational institutions,demonstrate fiscal soundness,have clearly stated and measurable goals and objectives,seek funding for specific program support, andhave at least a three-year track record of success.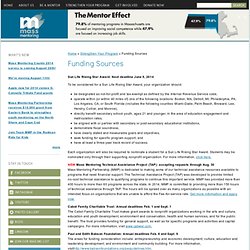 Case Foundation: Investing in People and Ideas that Can Change the World. Loans that change lives. 6 steps for starting a nonprofit for under $60. This is part of a special series on "accidental entrepreneurs" that showcases inspiring stories and learnings of determination and innovation in business across sectors.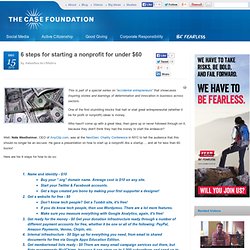 One of the first stumbling blocks that halt or stall great entrepreneurial (whether it be for profit or nonprofit) ideas is money. Who hasn't come up with a great idea, then gave up or never followed through on it, because they didn't think they had the money to start the endeavor? Well, Nate Westheimer, CEO of AnyClip.com, was at the NextGen: Charity Conference in NYC to tell the audience that this should no longer be an excuse. He gave a presentation on how to start up a nonprofit like a startup ... and all for less than 60 bucks! Here are his 6 steps for how to do so: Homepage. Front Page | Ashoka.org.
---