Org finance
Funding Sources | Mass Mentors. Highland Street Corps Ambassadors of Mentoring: deadline Feb. 6, 2014Are you thinking of starting a mentoring program?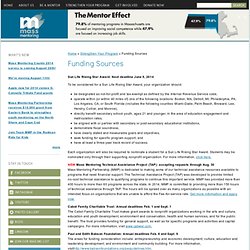 Or maybe you're an existing program and want to create new partnerships, develop comprehensive screening processes, reach more mentors of color, or simply build your program's capacity? We encourage you to apply now to host a Highland Street Corps Ambassador of Mentoring for the 2014-15 program year. Case Foundation: Investing in People and Ideas that Can Change the World.
Loans that change lives. 6 steps for starting a nonprofit for under $60. This is part of a special series on "accidental entrepreneurs" that showcases inspiring stories and learnings of determination and innovation in business across sectors.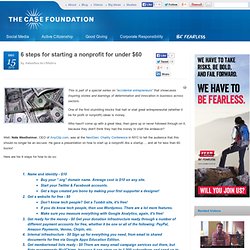 One of the first stumbling blocks that halt or stall great entrepreneurial (whether it be for profit or nonprofit) ideas is money. Who hasn't come up with a great idea, then gave up or never followed through on it, because they didn't think they had the money to start the endeavor? Well, Nate Westheimer, CEO of AnyClip.com, was at the NextGen: Charity Conference in NYC to tell the audience that this should no longer be an excuse.
He gave a presentation on how to start up a nonprofit like a startup ... and all for less than 60 bucks! Here are his 6 steps for how to do so: Homepage. Front Page | Ashoka.org. Skoll Foundation.