Sobre Occupy´s
14th October 2013 Question with 128 notes Anonymous asked: How can you claim to speak for 99% of people?
Операция "Асфальт". Малоизвестный эпизод из эпохи холодной войны Операция «Асфальт», в свое время значительно ухудшившая советско-норвежские отношения, тема в Норвегии достаточно неудобная. Непосредственные участники большей частью отошли в мир иной, унеся с собой жуткие воспоминания, а молодое поколение ничего о ней и не слышало.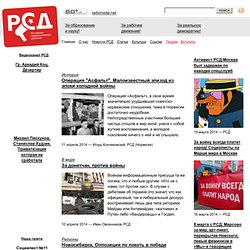 Сайт Российского социалистического движения - РСД - Российское Социалистическое Движение
TIDAL#2.pdf - Google Docs
2011 was a year or protest, from Egypt and the Arab Spring, to Spain, Greece, Italy, Portugal, the U.S.A. and many more countries, the people got out there in the streets to try and take back their basic rights. 12m Worldwide protests on May 12, 2012 Last year was a revolutionary one. People all over the world had had enough of government corruption, big corporations and bankers, losing their human rights one by one, and they went to the streets and squares of their cities to make a stand.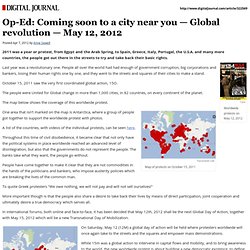 Digital Journal: A Global Digital Media Network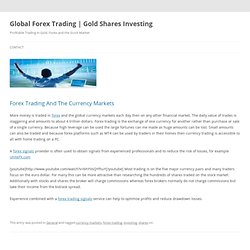 More money is traded in forex and the global currency markets each day then on any other financial market. The daily value of trades is staggering and amounts to about 4 trillion dollars. Forex trading is the exchange of one currency for another rather than purchase or sale of a single currency. Because high leverage can be used the large fortunes can me made as huge amounts can be lost. Small amounts can also be traded and because forex platforms such as MT4 can be used by traders in their homes then currency trading is accessible to all with home trading on a PC. A forex signals provider is often used to obtain signals from experienced professionals and to reduce the risk of losses, for example UniteFX.com
Occupied Stories: First-person news from the #occupy movement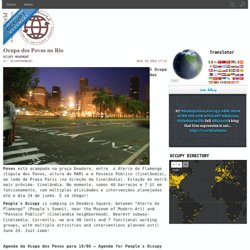 A está acampada na praça Deodoro, entre o Aterro do Flamengo (Cúpula dos Povos, altura do MAM) e o Passeio Público (Cinelândia), ao lado da Praça Paris (na direção da Cinelândia). Estação de metrô mais próxima: Cinelândia. No momento, somos 40 barracas e 7 Gt em funcionamento, com múltiplas atividades e intervenções planejadas até o dia 24 de junho. É só chegar! Oficina sobre não-violência Conversa sobre estratégias de ação na Cúpula dos Povos
Ocupa dos Povos no Rio | OccuWorld
occupycomics
[MULTILINGUAL] Quick guide for a revolution [PDF] [ENGLISH] Quick guide for a revolution[ESPAÑOL/SPANISH] Breve guía para montar revoluciones[PORTUGUÊS/PORTUGUESE] Guia Rápido para uma revolução [MULTILINGUAL] - English - Español/Spanish - Português/Portuguese Quick guide for a revolution (by the movement 15M/Occupy)
Occupy.net - A collection of tools for activists worldwide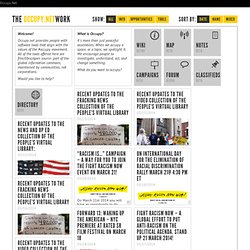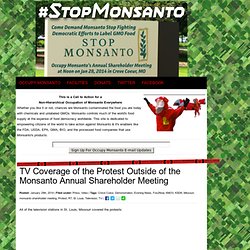 This is a Call to Action for a Non-Hierarchical Occupation of Monsanto Everywhere Whether you like it or not, chances are Monsanto contaminated the food you ate today with chemicals and unlabeled GMOs. Monsanto controls much of the world's food supply at the expense of food democracy worldwide. This site is dedicated to empowering citizens of the world to take action against Monsanto & it's enablers like the FDA, USDA, EPA, GMA, BIO, and the processed food companies that use Monsanto's products. Posted: January 29th, 2014 | Filed under: Press, Video | Tags: Creve Coeur, Demonstration, Evening News, Fox2Now, KMOV, KSDK, Missouri, monsanto shareholder meeting, Protest, RT, St. Louis, Television, TV |
WeAllOccupy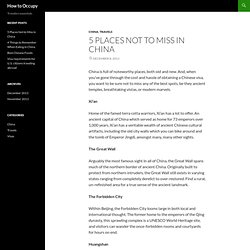 China is full of noteworthy places, both old and new. And, when you've gone through the cost and hassle of obtaining a Chinese visa, you want to be sure not to miss any of the best spots, be they ancient temples, breathtaking vistas, or modern marvels. Xi'an Home of the famed terra cotta warriors, Xi'an has a lot to offer. An ancient capital of China which served as home for 73 emperors over 1,000 years, Xi'an has a veritable wealth of ancient Chinese cultural artifacts, including the old city walls which you can bike around and the tomb of Emperor Jingdi, amongst many, many other sights.
sleeponwallst