3D
SideFX Houdini OnLine Training Course "ConeXions" (Mastering Houdini Escape) « CardanFX. Descripción What is Houdini ?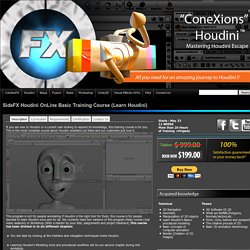 Houdini is a High-end 3d animation application developed by SideFX. Master of Rigging. The LookUp CHOP. I want to take a quick look at how you can use the LookUp CHOP to do many things such as set driven keys.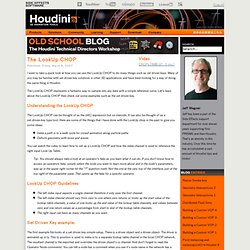 Many of you may be familiar with set driven key solutions in other 3D applications and have been looking for a way of doing the same thing in Houdini. The LookUp CHOP represents a fantastic way to sample into any data with a simple reference curve. Let's learn about the LookUp CHOP then check out some examples such as the set driven key. Michael rice misc. Super-material for Houdini 10 To install: note: the included otl file is a non-commercial asset.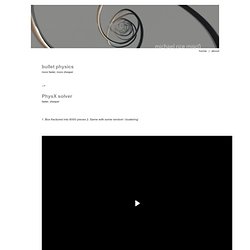 Martin Sawtell's website. PRman and Houdini OK first off, lets link some resources:The odforce wiki page on this subject.DCT systems has a writeup.SCAD student Alex Lim has one too.As does Hubert Weldon.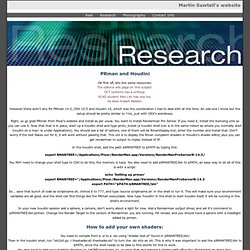 However there aren't any for PRman 14.3, OSX 10.5 and Houdini 10, which was the combination I had to deal with at the time. Sylvain Riou. Adam Swaab. Go Procedural User Guide: Introduction. Go Procedural. View All Houdini Tutorials and Training. 2h 31m 2229122,291 watched 207 added 3h 13m.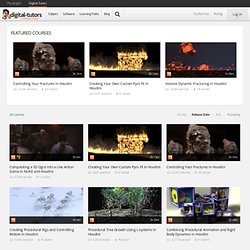 Houdini Modeling Tutorials and Training. Gamma, Linear Color Space and HDR - XSI-Wiki. Part I: Gamma We're all computer users whose primary interface for viewing images is the monitor.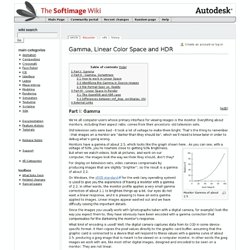 Everything about monitors, including their aspect ratio, comes from their ancestors: old television sets. Old television sets were bad - it took a lot of voltage to make them bright. That's the thing to remember - that images on a monitor are "darker than they should be", which we'll need to know later in order to debug what's going wrong. Monitors have a gamma of about 2.5, which looks like the graph shown here. DONNA & HOUDINI: Modeling in Houdini. The best part about modeling in Houdini is having all the tools at your finger tips.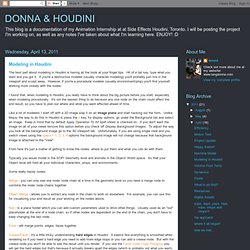 Hit of a tab key, type what you want and you got it. If you're a destructive modeler (usually character modeling) you'll probably just live in the viewport and sculpt away. Create Gorgeous Realtime Renders of your Game Art using the Marmoset Engine. If you are trying to get a job in the video game industry, it will always be a huge plus if you can show your work the way it will look inside an actual video game.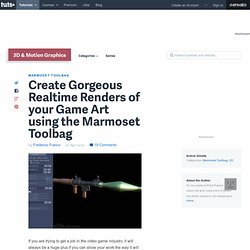 In this tutorial, you will learn how to properly import your models into the viewer of the Marmoset Toolbag (video game engine) from8 Monkey Labs. The entire process of exporting the model, as well as a 360° animation, from 3ds Max or Maya, and then importing it into the Toolbag so you can make a render for your reel, will be thoroughly explained. Have fun! FurryBall 3.0 - News. Houdini12 Raytrace Vs PBR Render test. Untitled. Modo 401 Fur Tutorial - Adding Density Map.
Create A Soap Scene In Modo. Create Amazingly Realistic Renders Using Advanced Render in Cinema 4D. Nick Campbell. How to access particular object in mograph via XPresso? - Dynamics, Hair, Thinking Particles, MoGraph or General Animation. Geoff Swartz - UV Mapping & Texturing. Old School Blog - Object Intersections Part One. 3D1.
NotíciasRecomendar Nesta seção estão arquivadas todas as notícias que foram publicadas na capa da 3D1.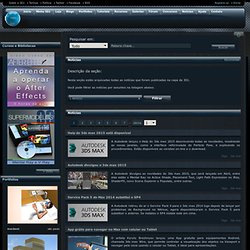 Você pode filtrar as notícias por assuntos na listagem abaixo. Filtrar Notícias. Bitmap2Material - Create normal map in 3ds Max. Peter Quint. My Houdini Blog. Houdini - the Foreach SOP Tutorial, HD. CmiVFX Worlds Leader In VFX Training - Expression cookbook - Houdini online help. Use the ch("pathname") function to grab the value of another parameter.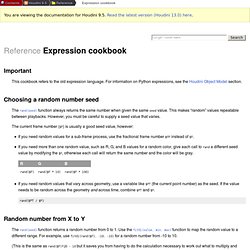 For example, to have a Tube SOP change its height based on the translation of an object named logo, set the tube's Height parameter to the expression ch("/obj/logo/ty"). To create ch() references easily, press on the source parameter and choose Copy Parameter, then press on the target parameter and choose Paste Copied References. You can use the channel value within an arithmetic expression, for example ch("/obj/$OS/spare1") + ch("/obj/$OS/tx") + 2 takes the value of the channel $OS/spare1 and adds the X value of that point plus two. Motiva COLIMO Overview I. M06 | First Steps | Understanding Attributes & Variables. Houdini Mantra | Waterfall. M05 | First Steps | Procedural Animation & Expressions. M04 | First Steps | Traditional Animation Tools. Mantra Rendering Masterclass. Geometry Solver Footprints. M03 | First Steps | Procedural Modeling And Digital Assets.
Houdini Waterfall Tutorial. M02 | First Steps | UI & Modeling. M01 | First Steps | Intro Workshop. Autodesk 123D - Free 3D Modeling Software, 3D Models, DIY Projects, Personal Fabrication Tools. CmiVFX – Houdini Hip Tricks Volume 4. CmiVFX – Houdini Hip Tricks Volume 4 If three were not enough, we come back with the highly anticipated fourth, killer sibling, for the series!
What can you say when you have a team like cmiVFX and Varomix? Simply awesome! We guarantee that you will be using this little bag of tricks for a long time to come. We take a lot of the initial problem solving out of so many of the sought after looks for film and television post production so that you can get your projects done in a quick efficient way. CmiVFX – Houdini 3Delight Interoperability. CmiVFX – Houdini 3Delight Interoperability This video will show you all of the in and out points of this system, all while demonstrating the creative power that it can harness in each and every artist that uses it. In our projects you will learn how to achieve several crucial scenarios to the Visual Effects Pipeline so that you can be up and running full speed at the end of this video.
CmiVFX – Houdini Hip Tricks Volume 1 & 2. CmiVFX – Houdini Hip Tricks Volume 1 & 2 | .m4v | project files | 724Mb cmiVFX launches its latest training for the SideFX Houdini premiere digital visual effects animation software package. Why build one kick ass VFX video when two is twice as nice! We have never been more fired up to release a training video in the history of this company. CMIVFX Houdini Hip Tips Volume 3. CmiVFX launches its latest training for the SideFX Houdini premiere digital visual effects animation software package. If two were not enough, we come back with the highly anticipated third, killer sibling, for the series!
Following the amazing success of the first two titles from cmiVFX Hip Tricks, we bring another blockbuster release for you to master! NVIDIA GDC 2012: Tech Demo Walkthrough (Cam) Unlimited Detail Real-Time Rendering Technology: Preview 2011. Modo 601: Motion graphics fun. Modo 601: Deformation Primer. Modo 601 retopology overview part 1. Cineversity.
Thea Render. GPU GLSL Experiments in Touch Designer. How to make the the Discovery Channel Rebrand Cube Transition Effect with Cinema 4D – Part 1. ::: mograph ::: Cinema 4D And After Effects Training, Tutorials, and Plugins for Motion Graphic Designers. Peter Quint's videos.
Julian Johnson's Modo Scripts. Modo shader Part 1. PACK Kit Bottle Design Demonstration.mov. Grass by William Vaughan for NewTek ( Part 1) Turning page by William Vaughan for NewTek (Part 1) Creating Weld Joints in LightWave 3D. Introduction to Nodes by NewTek (Part 2) Anisotropic Shaders by William Vaughan for NewTek. Glass Node by William Vaughan for NewTek (Part 1) Ambient Occlusion Tutorial in NewTek's LightWave 3D. Disciplines - CG-Masters. LightWave 10 Lighting Instruments. LightWave 10 Texturing Volume 2. LightWave 10 Texturing Volume 1. Displacements & MDD's Can Be Friends. Modo. LightWave 3D.
---