Ruby
Get flash to fully experience Pearltrees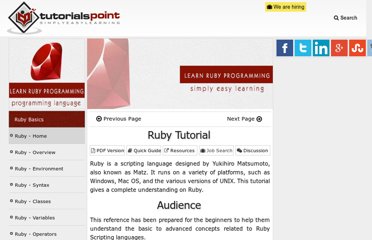 Ruby is a scripting language designed by Yukihiro Matsumoto, also known as Matz. It runs on a variety of platforms, such as Windows, Mac OS, and the various versions of UNIX. This tutorial gives a complete understanding on Ruby.
Troubleshooters.Com , Code Corner and Ruby Revival Present Ruby Basic Tutorial Copyright (C) 2005 by Steve Litt Note: All materials in Ruby Revival are provided AS IS. By reading the materials in Ruby Revival you are agreeing to assume all risks involved in the use of the materials, and you are agreeing to absolve the authors, owners, and anyone else involved with Python Patrol of any responsibility for the outcome of any use of these materials, even in the case of errors and/or omissions in the materials. If you do not agree to this, you must not read these materials. To the 99.9% of you honest readers who take responsibility for your own actions, I'm truly sorry it is necessary to subject all readers to the above disclaimer.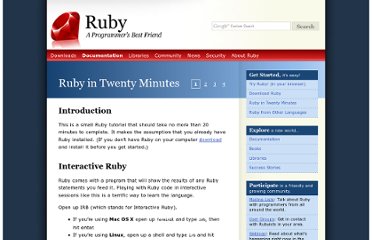 Introduction This is a small Ruby tutorial that should take no more than 20 minutes to complete. It makes the assumption that you already have Ruby installed.
A Place to Start for the Future Programmer I guess this all began back in 2002. I was thinking about teaching programming, and what a great language Ruby would be for learning how to program.
Ruby is a nice scripting language similar to Perl but cleaner and fully object-orientated. Find here a pointer to the main site about Ruby. Ruby Central also has a lots of data about Ruby. You can find here a link to an online copy of the book « Programming Ruby », by Andrew Hunt & Dave Thomas.
This article was written in 2011 and remains one of our most popular posts. If you're keen to learn more about Ruby and the Rails framework, you may want to head straight to the source — RubySource, that is — and you may find this recent article on Ruby and Sass of great interest. While it certainly makes no attempt to constitute a complete guide to the Ruby language, this tutorial will introduce you to some of the basics of Ruby. We'll power through a crash-course in object oriented programming, covering the more common features of the language along the way, and leaving the more obscure aspects of Ruby for a dedicated reference guide . I'll also point out some of the advantages that Ruby has over other languages when it comes to developing applications for the Web.
About ten years ago, back when I was working in New York, friends of mine showed me something that knocked my socks off—a program that actually ran inside of the Web browser, without any need for pressing submit. It was sleek, fun to use and seemed like a major paradigm shift. We all were excited about what this new "Java" language and its applets would mean for Web development.